VetCT is hosting a series of wildlife webinars with its charity partner, Wildlife Vets International (WVI), highlighting and raising funds for vital veterinary work to support endangered species around the world.
The first in the series with WVIs Executive Director, Olivia Walter, will explain the causes behind a catastrophic decline of Asia's vultures and the resultant shock to the ecosystem and the impact on human health – and what needs to happen next. Numbers of some species plummeted by between 97 and 99%, from tens of millions to just a few thousand birds in a matter of years. Olivia will explain how the loss of vultures has affected the ecosystem, leading, for example, to a rise in rabies and dog attacks on humans, and the extraordinary international conservation efforts that are helping reverse the fate of these birds.
Register HERE for the talk at 2-3pm BST on Tuesday 25th April via Zoom includes a live Q&A and comes during WVI's #Vets4Vultures Campaign. All donations received via this campaign platform page between 12 noon on Thursday 20th April and noon on Thursday 27th April will be matched via the Big Give - Green Match Fund. Attendees are invited to join for free and give a voluntary donation if they would like to.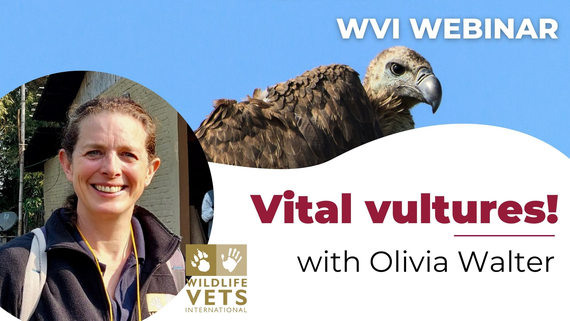 Olivia says, "I have recently returned from India and Nepal to explore ways in which WVI hopes to partner with relevant initiatives striving to restore vulture numbers. We all need to champion these misunderstood birds. It would be wonderful to raise awareness among the wider veterinary community, while raising important funds to enable us to provide input and support to this and other conservation projects."
Partnership nears its first anniversary
VetCT, which provides teleradiology and teleconsulting specialist support to veterinary teams, is partnering with WVI to support their vital work by helping to raise funds and awareness and providing free services to their veterinary teams.
VetCT Head of Communications, Liz Barton, says, "Our global team has been completing a virtual 'round the world' exercise challenge, travelling between WVI projects in 15 countries, from the reintroduction of Choughs in Kent to health surveys on tigers in Sumatra. As we near the anniversary of our partnership, we're delighted to be hosting these webinars with WVI to learn about the veterinary work from the teams working on these conservation projects. Last year, we raised over £7000 for WVI through various fundraising activities and we hope to continue this throughout 2023."
More webinars coming soon
Future webinars planned in the series include diseases of Echo Parakeets in Mauritius and canine distemper in domestic and painted wild dogs in Africa. 
Further details will be added to this webpage and shared via social media.
Recordings of all the sessions will be available to watch back on this webpage following each talk.