A survey of veterinary professionals and managers, conducted by teleradiology and teleconsulting company VetCT, has revealed key factors needed to optimise the use of Computed Tomography (CT) in vet practices. Desire for training in case selection, image acquisition and information about teleradiology services emerged as strong themes from vets wishing to offer advanced imaging to their patients and clients.
Over 90% of the 156 respondents (predominantly vets) believed CT was important in first opinion practice, yet nearly half did not have access to a scanner.
A quarter of those surveyed were interested in purchasing a CT scanner, with improved diagnostics for patients, staying up to date and a desire to keep more cases in-house reported as the main drivers. Space, cost and lack of confidence were cited as the main barriers to acquisition.
Matt Winter, radiologist and CVMO at VetCT says, "Imaging in first opinion practice is evolving rapidly with innovations in veterinary-specific CT technology, modern machines are more available and affordable than ever. We need to build confidence through training and understanding of the technology, and the comprehensive support available to practices."
While practices with a CT scanner felt they were using it optimally for the most part, specialist radiologist reporting emerged as the most significant factor towards optimising its use. However, a third of respondents not currently using teleradiology, stated they did not know enough about it and/or hadn't considered it.
Teleradiology is the remote reporting by specialist radiologists of diagnostic images acquired by a practice.
Matt comments, "Expert teleradiology to support with image interpretation is enabling more practices than ever to offer advanced imaging and provide state-of-the-art diagnostics for patients, meeting growing client expectations, elevating patient care and improving outcomes. While many practices are keen to expand their CT capability, there is clearly a need to grow understanding of how to optimise the diagnostic use. We're keen to support veterinary teams to help them excel with imaging for the benefit of their patients and owners."
VetCT's webinars on CT optimisation are available on their Youtube channel here. Additional CT training is planned for the future and the company recommends following their social media feeds or signing up for their newsletter here.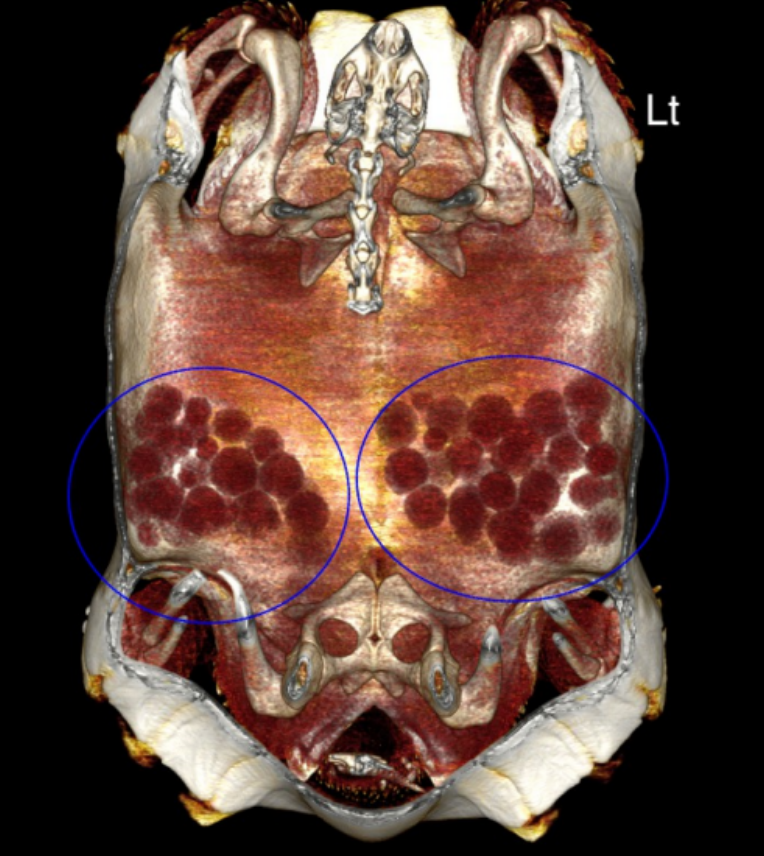 Annotated 3D reconstruction of a tortoise CT from a VetCT report: Dorsal volume-rendered image of the coelom with removed dorsal part of the carapace. The blue circles indicate ovarian follicles.