A yearling thoroughbred presented for investigation of pyrexia of unknown origin, persistently elevated white blood cell count, serum amyloid A and fibrinogen. A firm mass was palpable along the caudoventral neck.
Within the cranioventral thorax there is a well-defined soft tissue mass, which extends from the ventral aspect of the thorax dorsally to almost the level of the cranial mediastinal fold. The soft tissue mass presents a curved caudodorsal margin (green arrows), and summates caudally with the cardiac silhouette. There are lung markings overlying this, most markedly at its dorsal third.
There is a 50% reduction in the dorsoventral size of the trachea at the level of the thoracic inlet (red arrows). This extends caudally through the cranial mediastinum to become normal again at the level of the cranial border of the cardiac silhouette.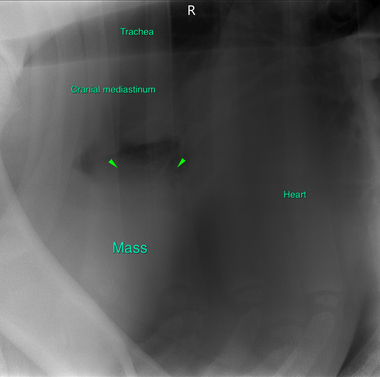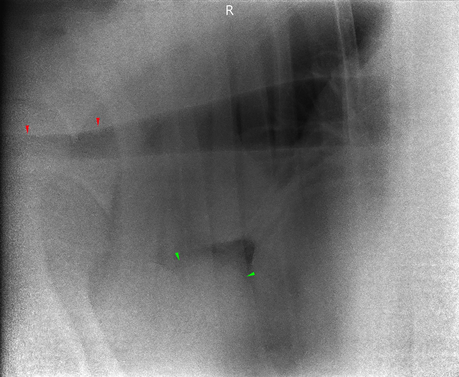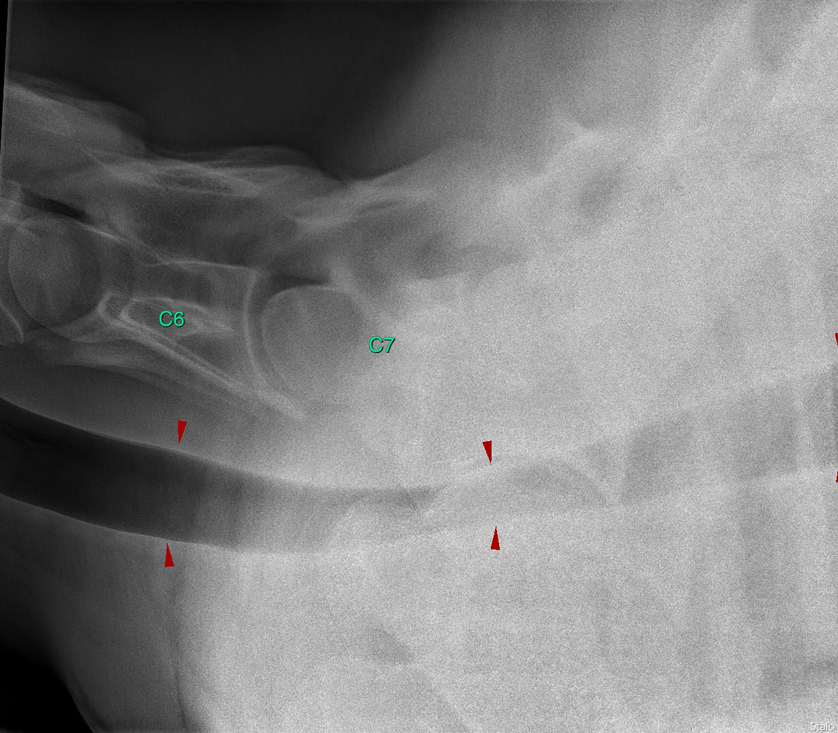 Conclusions
Cranial thoracic/thoracic inlet mass, most likely within the cranial mediastinum. Lymphadenopathy is considered the most likely diagnosis, lymphoma should also be considered, however the animal is younger than the commonly described age range (4-10 years). Abscessation, foreign body, granuloma formation or other soft tissue mass cannot be excluded, especially in the light of the clinical history and reported external extension of the mass to the shoulder region.
Tracheal narrowing at the thoracic inlet. This is considered likely secondary to the above described mass lesion causing tracheal compression or deviation. Tracheal collapse or severe tracheitis cannot be excluded, but are considered less likely.
The most common cause of cranial mediastinal masses is lymphadenopathy or lymphoma. In this case the external extension of the mass and the clinical history are not entirely typical for this diagnosis. Ultrasonography of the cranial mediastinum is recommended.
Did you find this case interesting? Follow us on social media to view our Case of the Month, or sign up for our quarterly equine newsletter to receive case reports and CPD information direct to your inbox.
Want to know more about how VetCT Equine can help with your imaging needs with our educational reporting and Pre-Purchase Examinations? Contact our equine team today.