Ophthalmology Case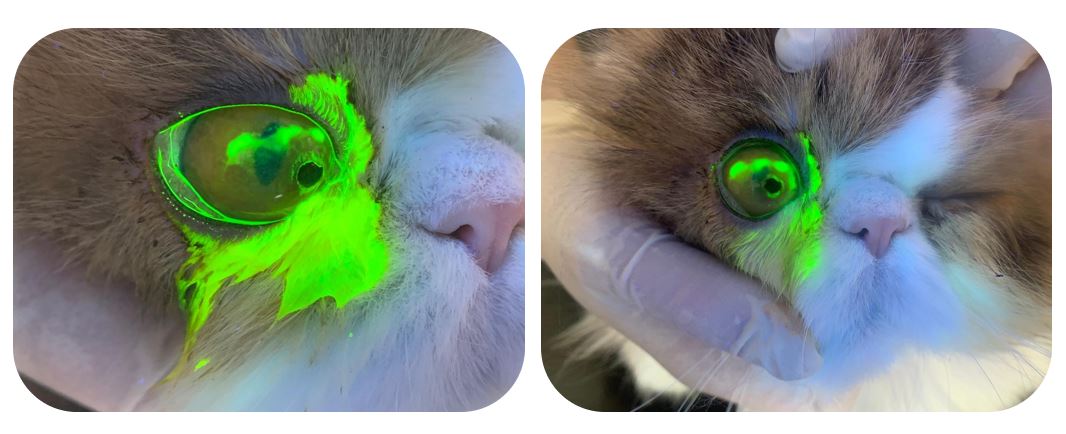 Case History
Coby, a 2y 8m MN Persian cat present 3 months ago with a 5 x 3mm corneal ulcer. This was treated with one week of topical chloramphenicol. At a recheck the ulcer and region of fluorescein uptake was reducing in size and almost gone. The patient then re-presented several weeks later, quiet and withdrawn.
How VetCT teleconsulting helped?
The vet repeated the examination and obtained photographs which were sent to VetCT for an ophthalmologist to review. The case history and images were reviewed by a diploma holder in ophthalmology who confirmed that this was a corneal sequestrum. These can be commonly missed and thought of as a non-healing corneal ulcer. The patient was referred to a local referral centre for surgical removal. The vet and owner had more follow-up questions for the ophthalmologist and these were sent via the text chat functionality. All of this information, the images and the discussion were passed to the referral hospital prior to the appointment.
The owner wants to know why this has happened to her cat?
Great question- but unfortunately we do not know for certain! We suspect that any corneal injury in cats can cause the development of a corneal sequestrum, especially if the injury leads to chronic corneal ulceration. Persians are over-represented and this is probably because their shallow orbit, prominent globe and relatively reduced blink predisposes the cornea to ulceration. A sequestrum forms when part of the exposed corneal stroma becomes necrotic and subsequently pigments, leading to the characteristic 'black spot' which is diagnostic for a corneal sequestrum. Corneal sequestra are usually painful and, although in some cases they may slough naturally, this process can take months and may lead to complications including severe keratitis, corneal rupture, and chronic discomfort. Surgical options (keratectomy with or without grafting) are often the treatment of choice and, if possible, a consultation with a veterinary ophthalmologist is advisable to discuss possible treatment options.
The owner wants to know what the prognosis is?
The prognosis for corneal sequestrum is good, with published surgical success rates >80%. The referral centre will discuss this with you during your appointment. In the uncommon event of sequestrum recurrence then a second surgery might be required. In the longer term, and in predisposed cats, regular use of eye lubricants may be advised, in order to lubricate and protect the corneal surface and reduce the risk of recurrence.
Additional reading material for the vet:
The ophthalmologist also sent some additional references for the vet to read.
- Graham KL et al (2017). Feline corneal sequestra: outcome of corneoconjunctival transposition in 97 cats (109 eyes). J Feline Med Surg 19, 710-716
- Laguna et al (2015). Corneal grafting for the treatment of feline corneal sequestrum: a retrospective study of 18 eyes (13 cats). Vet Ophthal 18, 291-296
- Featherstone et al (2004). Feline corneal sequestra: a review of 64 cases (80 eyes) from 1993 to 2000. Vet Ophthal 7, 213-217
Internal Medicine Case

Case History
Sky, a 2 year old FE Whippet was about to give birth, but was unwell. She had a 24 hour history of severe vomiting and was collapsed and hypothermic. Her temperature was 35.8 and she was severely hypotensive (BP 76/63) with a heart rate 100 pale and the vet could not palpate peripheral pulses. Skye had not been seen to urinate recently. An abdominal ultrasound scan to evaluate pups had showed heart beats were present but slow. The vet was very worried and unsure about next steps so contacted VetCT's internal medicine specialist for immediate support, sending all the case details and blood results via an easy interface. View the lab results here.
How VetCT teleconsulting helped?
The diploma holding medicine specialist reviewed the case and quickly identified that this was an extremely challenging case of pseudoaddisons in pregnancy. Emergency fluid resuscitation and stabilising potassium was discussed with the plan to move to an emergency caesarean as soon as the patient was stable. The vet did not quite have everything needed at hand and therefore instead of using insulin to manage the potassium, the specialist and vet worked together to instead use calcium to stabilise the myocardium whilst dealing with the cause. One hour later the dog was deteriorating and a repeat abdominal ultrasound scan the pups looked as if they were no longer alive. At this point the medicine specialist advised moving to an emergency C-section. 7 pups were dead, but one pup was alive and the bloods quickly returned to normal. The vet and owner were very relieved.
In this scenario the vet had felt very busy, stressed and pulled in all directions, whilst trying to manage an incredibly challenging situation. She was able to quickly talk the case through with a friendly, caring specialist to support her decision making and tailor the management to the individual situation and available treatments. She also felt backed up in case of any future owner queries about patient management.