Real-Time, Supported CPD on Your Clinical Cases!
Learn 'On the Job' with VetCT
Learning by doing is generally more effective than learning by listening or reading. And as vets we do a lot of doing! But sometimes we need a little bit of support to help us do and learn in busy practice life.
Optimising the learning experience for vets who are emotionally involved, time-poor and have high intrinsic and extrinsic expectations for the highest standards of care is vital for maintaining motivation and job satisfaction (see below). This in turn supports staff retention, can improve outcomes for patients, and boosts client loyalty.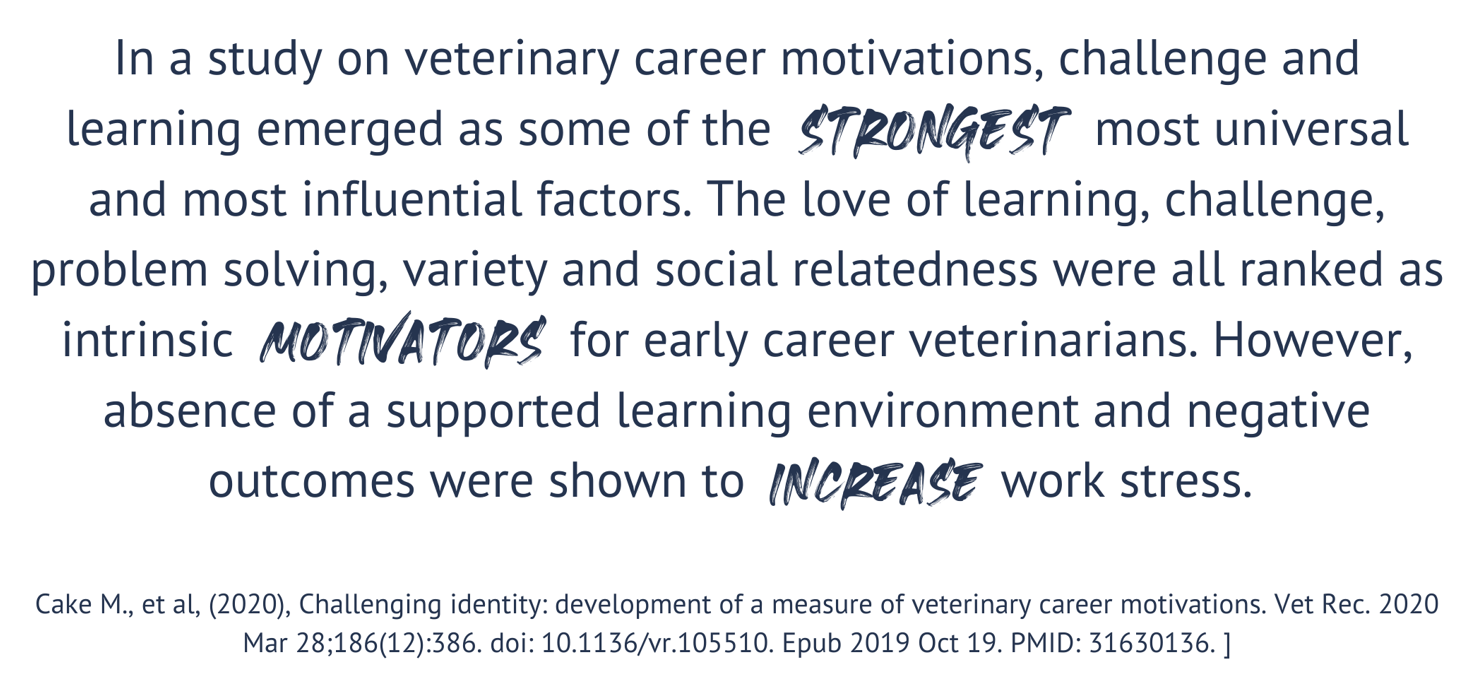 Recent developments in bringing CPD to life in practice through real-time connectivity, with empathetic veterinary specialists dedicated to supporting learning and case management, are a cornerstone to supporting such learning in practice.
Real-time learning has certain key characteristics, which make it accessible and relevant to the learner in the moment. These include brevity, on-demand, ease of access, content variety, and goal-oriented training. Such learning is further incentivised in the veterinary field by seeing the relevance of the learning and how it relates to patient outcomes.
As the world moves more towards app-based technologies, VetCT has invested in development of the vet-to-specialist teleconsulting app to provide 24/7 instant, flexible access to the veterinary specialist support to both first opinion vets and specialists in practice, seeking second opinions or interdisciplinary advice. This 'clinical support in your pocket' reassurance is designed to build confidence and promote clinical skills development.
By fostering the joy of learning, we can help to support positive wellbeing of veterinary staff. Reflective learning is further supported with the addition of microlearning 'bite-size' video resources accessible through the platform, encouraging the cementing of recent learning when immediate time pressure abates.
Real-time and reflective CPD via the VetCT app, at no additional cost.
This on-the-job performance support tool facilitates efficient, effective delivery of optimal patient care, thus fostering client loyalty, and supporting the learning, development and professional goals of vets.
Explore learning theory, the modern learner, and how real-time on the job learning techniques can be applied in veterinary practice. Plus, the future of CPD provision and innovation in a sector ripe for disruption. 
Download the white paper 'Real-Time Learning and CPD Innovation in the Veterinary Profession'
For more information on our services, get in touch with our friendly team at sales@vet-ct.com.
Download the App today!