Case History
A 2yo FN Crossbreed dog, originally from Spain, was presented for unilateral left sided epistaxis. Her owner reported some sneezing of several months duration, but felt that this had also occurred the previous springtime as well. A mild shifting lameness was also felt to be present over several weeks. That morning, acute, and quite marked epistaxis had begun and was noted to stop and start through the rest of the day.
On physical examination the primary care veterinarian reported ongoing intermittent unilateral epistaxis, but there was no evidence of gross haemorrhage or petechiation elsewhere on exam. A very mild generalised lymphadenopathy was perhaps present, and there was a mild lameness with some joint discomfort, but no palpable joint effusions. The dog was mildly pyrexic on presentation at 39.6oC, but temperature normalised during the observation period.
A general health profile was performed. Haematology was fairly unremarkable with a current haematocrit of 40%, and a marginal thrombocytopenia at 109 x 109/L on machine count. Biochemistry showed a very marginal increase in globulins at 59 g/L.
A point of care abdominal scan (AFAST) did not identify free fluid, but splenomegaly was suspected.
Some additional testing was undertaken by the primary care vet, but what other tests would you perform with this history and presentation if you were managing this case?
What are your top differentials for epistaxis?
Case Outcome
The testing that the primary care vet had also performed included the following tests and was able to provide the results:
Buccal mucosal bleeding time (BMBT) < 2 minutes
PT and PTT - both within normal limits
Angiostrongylus vasorum snap test - negative
A 4Dx snap test (Anaplasma, Ehrlichia, Dirofilaria and Borrelia spp)
With primary and secondary coagulopathies fairly reliably excluded based upon these available diagnostics, the consulting specialist in internal medicine was concerned about the possibility of more systemic disease given the possible mild generalised lymphadenopathy, the suspected splenomegaly, and the reported shifting lameness. The top differential diagnoses considered for this case therefore included a vasculitis (immune mediated, infectious disease), with non-specific inflammatory rhinitis, fungal rhinitis, and foreign bodies considered less likely. We recommended a blood pressure check as well to exclude hypertension as a contributing factor.
Despite a lack of musculoskeletal discomfort, or joint effusion, differentials for the lameness still included an inflammatory polyarthritis, with haemorrhagic joint effusions considered unlikely given a coagulation disorder was not felt to be present. Neuromuscular disorders were considered less likely with the presentation, and as CK was normal on the biochemistry panel.
With the travel history from Spain, we agreed that there was a risk for leishmaniasis despite travel having occurred some time ago.
Before reading further, jot down what further testing you might discuss for this case to investigate the top differentials listed.
Would you recommend testing for the possibility of Leishmaniasis?
And what testing would you undertake?
Please view the epistaxis algorithm below. You can download it here!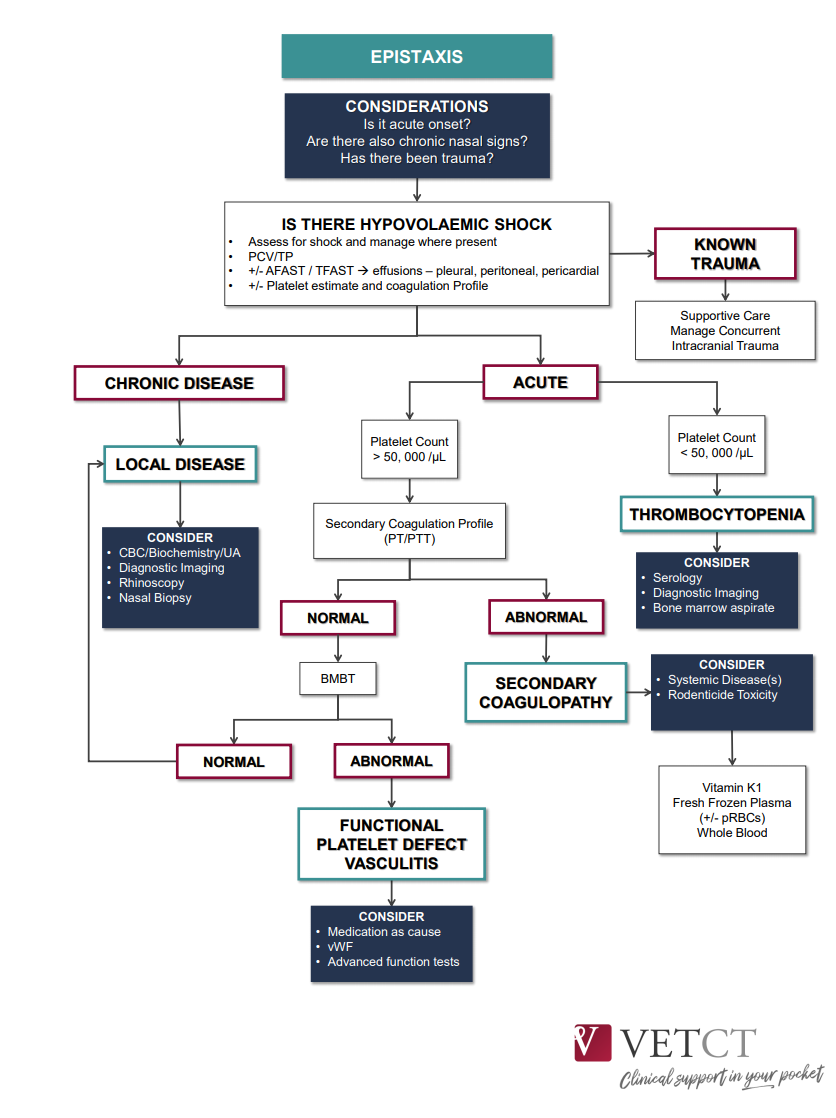 Testing for leishmaniasis was performed before potentially progressing to more advanced diagnostics such as nasal and frontal sinus radiography (or computed tomography) and rhinoscopy for evaluation and biopsy.
We recommended serology, however positive results can be obtained with prior exposure, therefore given the suspected mild lymphadenopathy and splenomegaly, we discussed FNA samples of the lymph nodes (see cytology image below) +/- the spleen. FNA for PCR could also have been performed to detect Leishmania spp DNA within the organs sampled.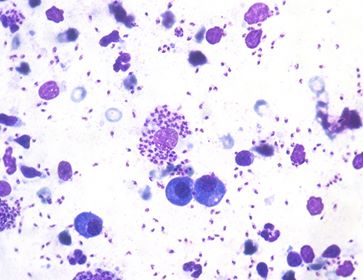 A high serology result was obtained (1:1024), and within cytologic samples the pathologists noted amastigotes. Therefore a diagnosis of leishmaniasis was made, likely resulting in vasculitis and epistaxis.
On confirmation of this diagnosis we discussed a treatment plan with the primary care vet using combination therapy including allopurinol and miltofesine. Ongoing monitoring of renal parameters, and proteinuria were recommended together with repeated serology throughout the treatment plan across the next 6 - 12 months and according to LeishVet guidelines.
Just over six weeks later a case review showed no further epistaxis and marked improvement in energy and general demeanour!