Case History

A 12yo FN Hungarian Vizsla (25.8 kg) was presented to the primary care vet for incontinence which the owner described as bed-wetting. Appetite was considered normal although there was some debate on this topic between the husband and wife owners, but overall no other concerns were reported. The owner estimated water consumption as approximately 2 – 2.5 L/day, and spot urine checks showed a specific gravity (USG) of 1.010 – 1.011. Dipstick and sediment examination was unremarkable, and culture of the urine was negative. A treatment trial with phenylpropanolamine was prescribed, but no significant improvement was noted.
Follow up testing was performed, and haematology was unremarkable. Biochemistry identified a mild increase in ALT (166 U/L; Ref < 100), and a moderate increase in ALkP (1064 U/L; Ref < 120), with normal creatinine concentration (67 umol/L; Ref) and no other abnormalities.
Given these combined results a urine cortisol to creatinine ratio (UCCR) had been submitted (85; Ref < 35). To follow up this result an ACTH stimulation test was performed with a pre-stimulation cortisol concentration of 121 nmol/L, and a post-stimulation cortisol concentration of 403 nmol/L. At the time of this ACTH stimulation test, the owner reported water consumption had further increased to 3.6 – 3.8 L/day. The primary care vet rang VetCT at this point to discuss these findings and possible next steps with a specialist in our Internal Medicine Team.
What is your preferred choice of testing for diagnosing hyperadrenocorticism, and why?
How would you interpret these results for this case?
Would you recommend any further diagnostics for hyperadrenocorticism if this were your case, or would you proceed with other diagnostics next?
Case Outcome
There are a number of different ways that we can approach a diagnosis of hyperadrenocorticism, and which you choose may change depending upon the particulars of an individual case. Below (Table 1) is a summary of screening and confirmatory tests that can be performed.
It is important to remember that the indications for diagnostic testing for HAC should include compatible history and clinicopathologic findings to ensure appropriate use and test interpretation. Ideally testing should not occur during a period of critical illness if possible to limit the risk of false positive results.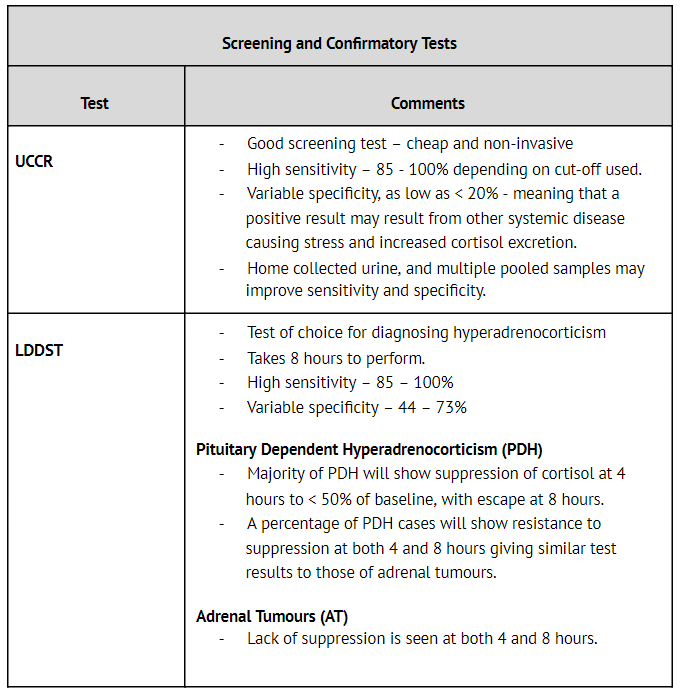 A LDDST is considered the diagnostic test of choice for HAC, however an ACTH stimulation test might be considered the better choice for diagnosing HAC where other systemic disease is present and in order to maximise the specificity of a positive result. It also remains a reasonable choice where PDH is most likely as sensitivity and specificity are both reasonable for diagnosing PDH, but the lower sensitivity for AT means false negative results may be obtained. It is not uncommon to undertake both tests consecutively, and this can help to maximise sensitivity and specificity where initial testing with one of these options is negative, or equivocal.

In the described case, the UCCR result indicates cortisol secretion is increased which could be compatible with HAC, but could also be non-specific. The ACTH stimulation test is negative. This might be a false-negative result, therefore the option to follow up with a LDDST would be reasonable where there is still suspicion for HAC based upon other clinicopathologic findings.
How would you approach this case?
At this point there are a number of ways this case could be approached based upon the current problems of incontinence, PU/PD and a hepatopathy. We discussed that incontinence was most likely due to a degree of USMI exacerbated by the reported PU/PD and therefore may not be the primary focus of diagnostics or therapeutics.
When considering differential diagnoses for PU/PD we can organise these in a number of different ways including common vs uncommon or rare causes, or from the perspective of pathophysiologic causes such as interference with vasopressin activity in the kidney (various), osmotic diuresis (glycosuria, drug therapies) or changes to medullary tonicity. Primary polydipsia can occur, but is infrequently a cause of PU/PD.
On biochemistry analysis for this patient, only hepatic enzymology was abnormal, and there was no evidence of glycosuria on urinalysis helping us to exclude many of the common causes of PU/PD.
We made the following general comments for testing at this point:
The hepatopathy may or may not explain the PU/PD. Mechanisms by which a hepatopathy may be the cause of PU/PD included:

Primary polydipsia secondary to hepatic encephalopathy (HE) - possible, but no other obvious features of HE.
Interference with the medullary concentrating gradient due to electrolyte imbalance or reduced protein turnover - unlikely given normal sodium and urea concentrations.
Underlying endocrinopathy - various mechanisms depending upon specific endocrinopathy. Hyperadrenocorticism, hyperthyroidism and hypoadrenocorticism can cause hepatic enzyme changes and all can interfere with vasopressin activity resulting in PU/PD. However, of these hyperadrenocorticism was most likely based upon species, presentation and available results.
Where the hepatopathy was not related to the PU/PD or underlying endocrine disease, differential diagnoses for the hepatopathy alone included inflammatory / immune mediated conditions, degenerative / vacuolar hepatopathies and less likely infiltrative neoplasia.
Consider measuring ionized calcium concentration, despite normal total calcium concentration, to further exclude the possibility of hypercalcaemia.
Pyelonephritis may not be excluded on the basis of normal renal parameters and one negative urine culture result alone. Repeat urine culture may be considered.
An abdominal ultrasound was also considered very reasonable in this case, particularly to evaluate the renal and urogenital tracts, the liver and the adrenal gland size and shape. Ultrasound would also allow the potential for sampling the liver for initial cytology.
Hepatic biopsy may be a consideration here as well.
The owner declined abdominal imaging, but agreed to undertake a LDDST and the following results were provided:

Have a think about your interpretation of these results before reading onwards.

These results show adequate suppression at 4 hours post-dexamethasone suppression, but there is an escape at 8 hours which would be compatible with hyperadrenocorticism, but should be interpreted in conjunction with other clinicopathologic findings as a false positive result is also possible. Where considered compatible, this pattern of suppression followed by escape is indicative of PDH, not an AT. We could further evaluate this via ultrasound to look for bilateral adrenomegaly, or by performing endogenous ACTH concentrations (see Table 2), however these may not be deemed absolutely necessary at this point except to decide if there might be other contributions for the PU/PD and hepatopathy present and to potentially take hepatic samples. In a stable patient, where there is clinical compatibility with an endocrinopathy, ultrasound could be reserved to follow implementation of therapy for hyperadrenocorticism where PU/PD and the hepatopathy did not respond and improve as might otherwise be expected.
At this point we discussed with the primary care veterinarian whether or not it was reasonable to commence therapy for hyperadrenocorticism on the basis of this result.
As trilostane is not a benign therapy, it is of course most important to interpret results in light of the clinical findings to determine if this is the best step forward. Treatment for hyperadrenocorticism is easiest to instigate where we have more classical signs of Cushing's Syndrome. Decisions around starting treatment can be more challenging when signs are subtle, and some would debate that medical management should be directed towards control of the syndrome and not commenced on the basis of a hepatopathy and compatible endocrine tests alone. In this case PU/PD and incontinence were the predominant findings, and there was some debate between owners as to whether mild polyphagia might also be present. Whilst the option to wait, monitor for more support for Cushing's Syndrome, and retest would remain an option here, and although signs were slightly subtle, it was considered that there was likely enough evidence to support moving forward with cautious treatment on the basis that common things occur commonly.
Trilostane was therefore commenced (20 mg BID) and reassessment of clinical signs indicated a reduction in PU/PD and incontinence relatively quickly. Monitoring was initially performed with an ACTH stimulation test at 4-6 hours post-pill at 10 and 30 days and indicated improved values, but adequate reserve function on both occasions.
Given this improvement and clinical response, hyperadrenocorticism was considered a compatible diagnosis in this case, and a likely cause of the hepatopathy seen, with monitoring of the latter being reasonable ongoing.
Differentiation between PDH and AT might require other testing as outlined below in Table 2.