World Snake Day 🐍
You guessed it; this is a snake. It is a boa constrictor.
An 11yo M Boa presented for weight loss and a mass on the caudal 3rd of body. Another snake in the same household recently tested positive for inclusion body disease (IBD, arenavirus).
Radiographs (dorsoventral & right laterals 📷 see below images) were taken of the snake and sent to a VetCT radiologist for review 📝
The DV images were taken without restraint of the snake, some parts of the snake were not included in the image. The lateral radiographs were taken while holding the snake for ideal positioning.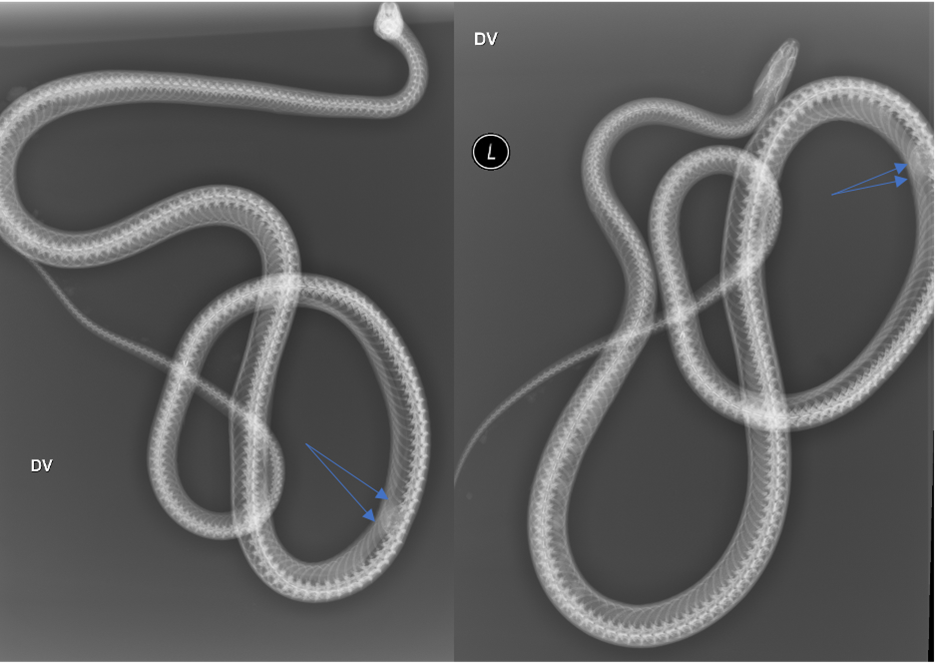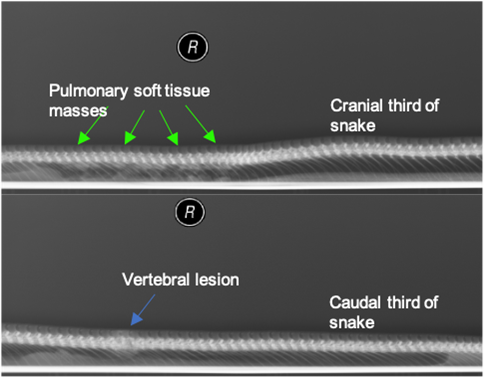 Radiographically were two areas of concern:
➡️ Lungs - within the pulmonary parenchyma, just caudal to the heart, there are numerous smoothly marginated, soft tissue opaque, round to irregularly shaped nodules (green arrows). There is a small amount of heterogeneous soft tissue in mineral opaque material within the gastrointestinal tract, a normal finding.

➡️ Lytic spine - caudal 3rd of the patient, there is permeative lysis of the left aspect of three vertebral bodies (blue arrows) and associated lamina and proximal ribs with complete cortical destruction and amorphous and permeative periosteal proliferation. There are pathologic transverse fractures of the associated proximal ribs. There is focal soft tissue swelling surrounding these osseous changes.
The lesions in the lungs and the vertebrae are likely connected. Differentials include granulomatous disease (bacteria versus fungal) or neoplasia with metastasis. These lesions are most likely not related to IBD. Inclusion body disease occurs in boid snakes (pythons and boas) and is caused by an arenavirus with nonspecific symptoms that progress to neurological abnormalities.