History
This 2-year-old cat was involved in a road traffic accident, resulting in a serious degloving injury. The vet contacted the VetCT Telemedicine Hospital and received advice from a Diploma holding specialist in soft tissue surgery. The Vet sent photos for review (below). Valuable suggestions in terms of immediate and longer-term treatment options were provided.
The underlying message: there was still hope.
Further investigations
On advice of our specialist, the cat was given a general anaesthetic and the entire leg was clipped followed by copious flushing with body temperature physiologic fluid. The wound on the distal tibia needed debridement. Vacuum-assisted closure was discussed and advice given. After discussion the decision was made to use a wet-to-dry dressing, changed every 24h under sedation or GA in order to encourage granulation tissue formation was suggested. Our specialist also shared some literature on the latest tips and tricks in wound management.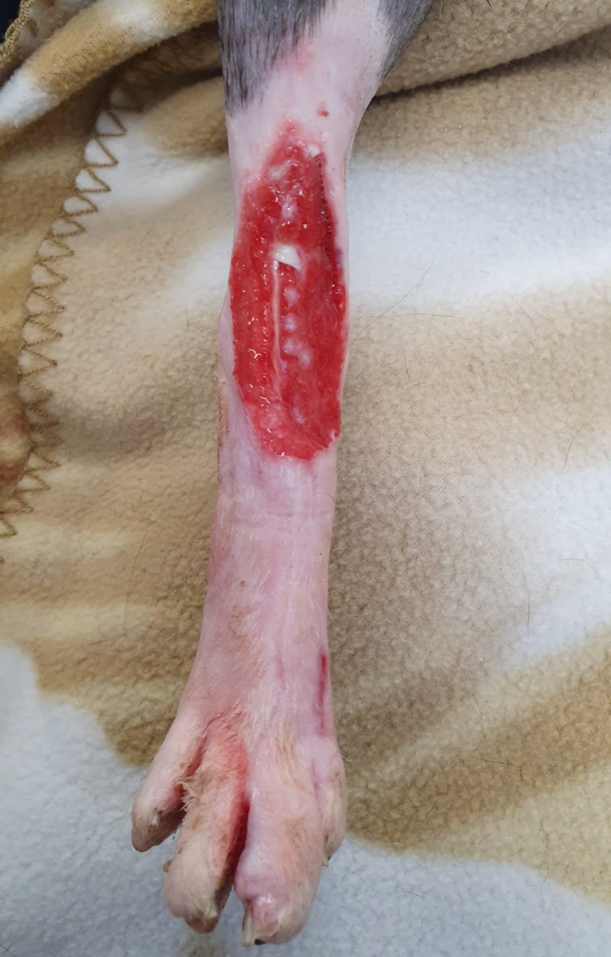 Outcome

Over the course of one month and regular interaction between the local colleague and our specialists, the wound started to improve, eventually allowing the wound to heal through second intention.

COVID 19 - #vetforvets
We want to help frontline vets at this difficult time, so we are opening the doors of our 24hr online telemedicine hospital. Throughout April you can access free instant advice from the world's best veterinary specialists. Discover more here!