Clinical history:

An 8 year old DSH

Sudden onset of coughing. Thoracic radiographs were taken to investigate further.

(scroll down for radiographs)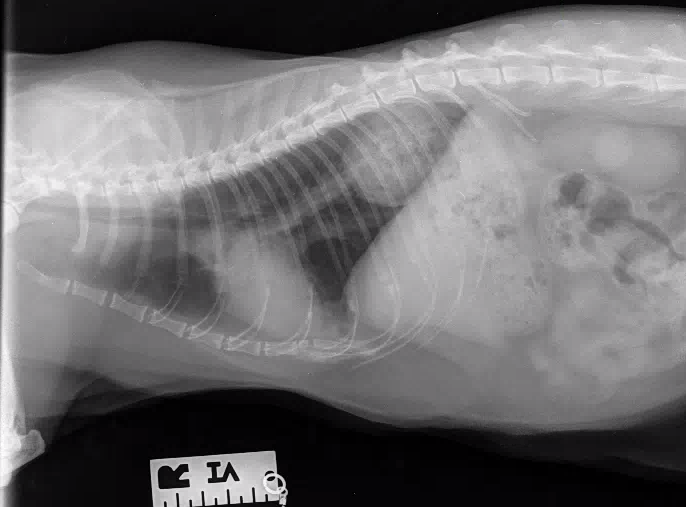 Right lateral thorax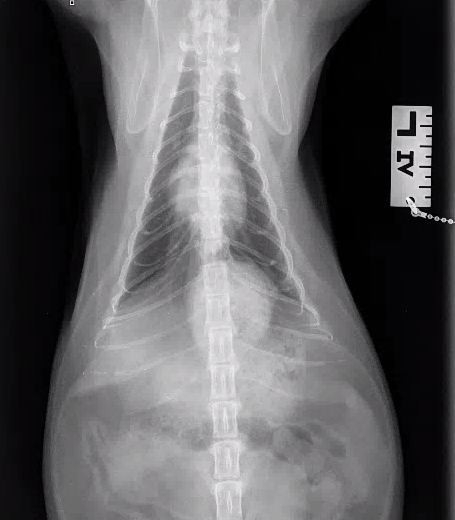 VD thorax
Diagnostic Interpretation:

An approximately 4cm-in-diameter well defined soft tissue mass is seen in the caudodorsal thorax, most likely mediastinum. This mass presents a granular texture as the food content present in the gastric fundus, which is merging with the caudal aspect of the mass. On the VD projection, the mass is seen to be slightly more to the left side of the midline and seems to cause mild mediastinal widening. There is no evidence of megaoesophagus.

The cardiovascular structures are within normal variations.

The lung parenchyma is otherwise within normal variations.

The abdomen is within normal variations.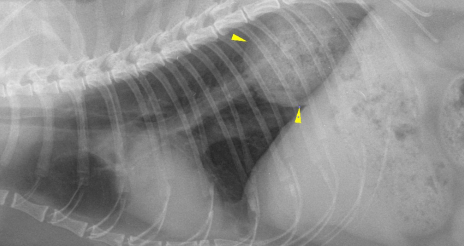 RLR view showing the granular soft tissue opacity mass.

Conclusions:

Caudodorsal mediastinal mass DDX: hiatal hernia, oesophageal neoplasia. However, primary lung neoplasia such as bronchogenic carcinoma has to also be considered. The position of the stomach and the lack of the megaoesophagus are signs usually seen in case of hernia or space occupying oesophageal process.



Additional comments:

In a first instance, barium study (liquid phase sufficient) is valuable to confirm the location (mediastinal vs pulmonary) of the mass.
For further investigations, endoscopy and CT with angiography are valuable.

Update:
The patient underwent surgical exploration of the area and the diagnosis of a hiatal hernia was confirmed. The hernia was reduced surgically, but sadly the patient died under anaesthesia.