Clinical history:
A 10 year old Male neutered Staffordshire Bull Terrier
The dog initially presented with a 10 day history of coughing which appeared to start suddenly. On clinical examination the dog appeared bright, alert and responsive. Respiratory and heart rates were elevated. Temperature was 39.3C. The rest of the clinical examination was unremarkable. Doxycycline was prescribed.

He was re examined 2 days later and the owner reported that he now had a reduced appetite. He was still coughing and was now bringing up phlegm. The antibiotics were changed to potentiated amoxicillin and bisolvomycin and thoracic radiographs were taken.

Scroll down for Radiographs

Right lateral thorax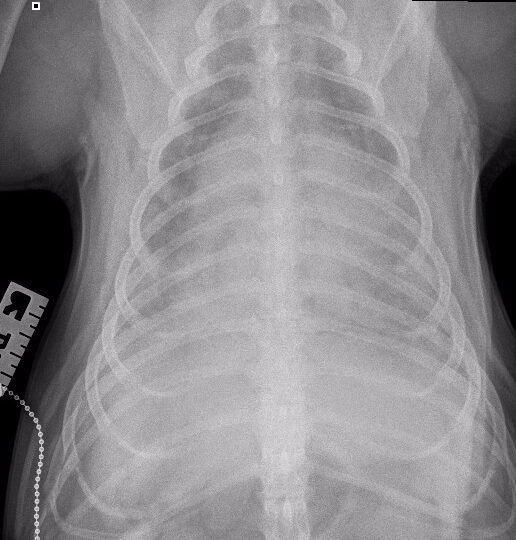 Ventro dorsal thorax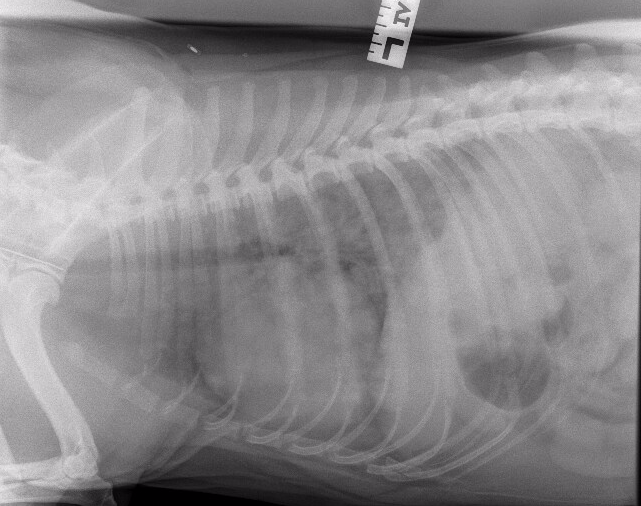 Left lateral thorax
Diagnostic interpretation:

The cardiac silhouette is ill-defined due to the superimposition of a severe pulmonary opacification.

The pulmonary opacification is diffuse. It is a severe nodular interstitial pattern (multiple small ill defined nodules and moderate increase in soft tissue opacity) coalescing to an alveolar pattern in the caudal lung lobes (ill-defined air bronchograms and soft tissue opacity silhouetting completely with the diaphragm outline).

The cardiac silhouette is rounded and mildly enlarged (but this is difficult to assess fully as it is ill defined).

There is a possible widening and rounding of the angle between the main stem bronchi on the dorsoventral projection. This could be due to an enlargement of the tracheo bronchial lymph node or an enlargement of the left atrium. On the right lateral projection, one main stem bronchus is elevated dorsally.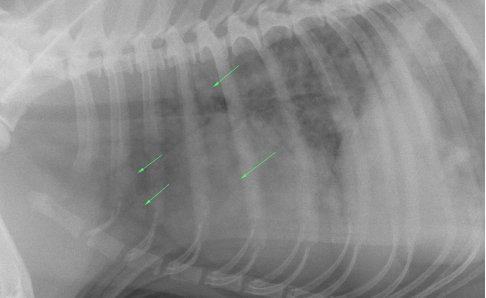 Right lateral projection: the green arrows indicate the ill-defined pulmonary nodules.



Conclusions:

1. Severe diffuse pulmonary opacification: nodular interstitial to alveolar. The differential diagnosis includes: most likely diffuse neoplasia (metastases, lymphoma, less likely diffuse carcinoma, haemangiosarcoma), diffuse granulomatous inflammatory disease (eosinophilic pneumopathy, fungal pneumonia, less likely tuberculosis or parasitic pneumonia)
2. Possible enlargement of the middle tracheobronchial lymph node: neoplastic or reactive lymphadenopathy.
3. Possible enlargement of the left atrium. A left-sided cardiomegaly cannot be completely excluded on those radiographs. If clinically indicated, an echocardiography could be performed for a better assessment of the heart. However, the pulmonary changes are less likely due to cardiac failure (pulmonary oedema) due to the nodular component.
Additional comments:

In conclusion, the pulmonary changes are quite severe. For further investigations, fine-needle aspirations of the lungs under ultrasound-guidance (for cytology) and/or a bronchoalveolar lavage (for cytology and bacteriology) would be recommended. Treatment would be dependent on the type of disease diagnosed. If the disease is neoplastic in nature, it would be necessary to identify the type of neoplastic process to see if chemotherapy is possible. Also, if it would be due to metastases, the primary tumour should be looked for using abdominal ultrasonography or CT. If a granulomatous inflammatory disease is diagnosed, then cytology and bacteriology would help for guiding the treatment (an eosinophilic bronchopneumopathy would be treated differently than an infectious granulomatous disease).


Update:

The patient was referred for further investigations. Abdominal ultrasound was unremarkable. CT of the chest showed an extensive nodular miliary lung pattern with very little normal lung present. There was a small pleural effusion which was sanguinous in character. See CT images below: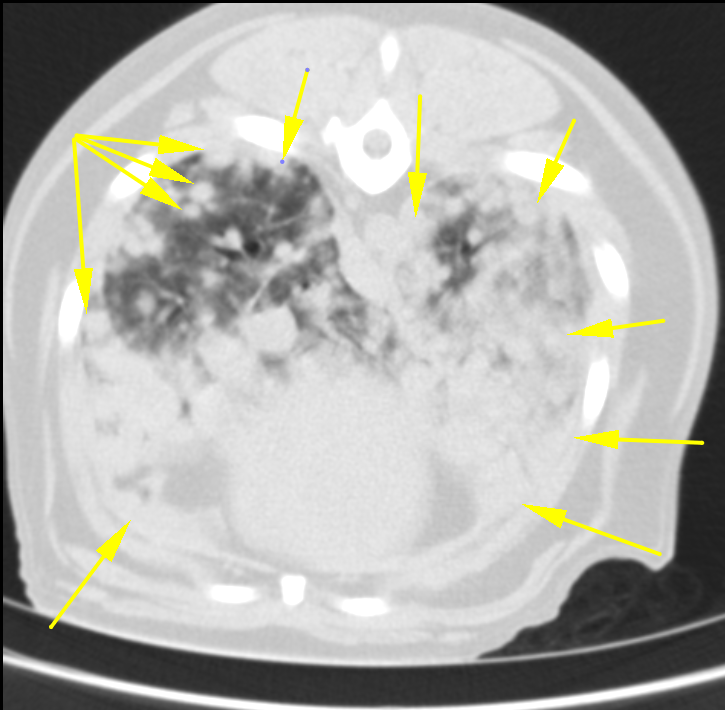 CT image showing miliary lung metastases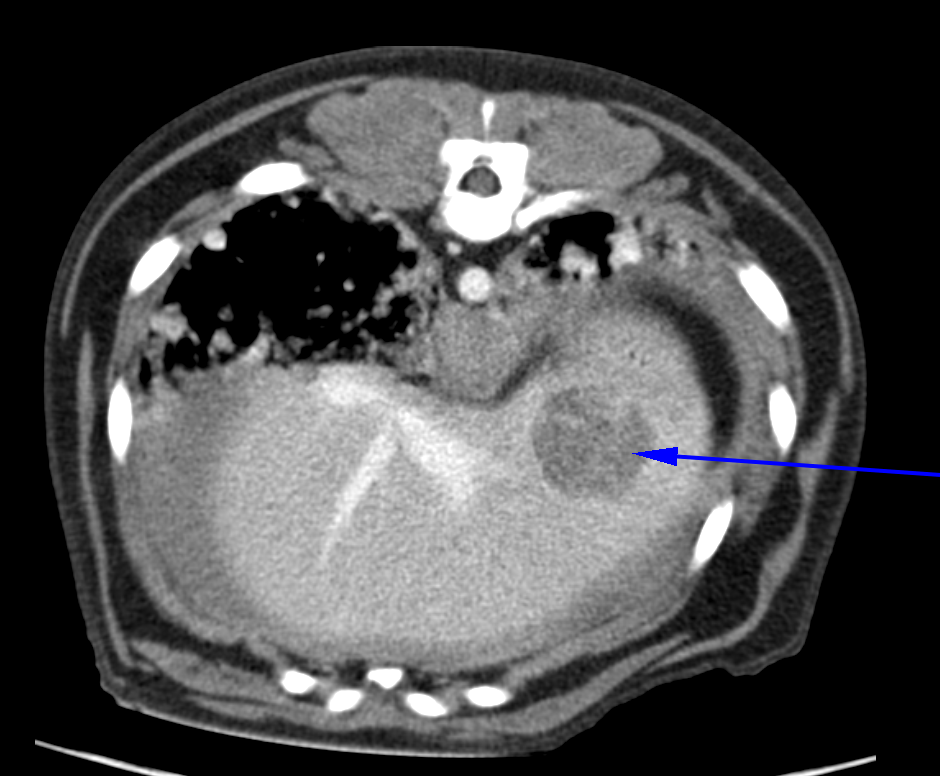 CT image showing left sided liver mass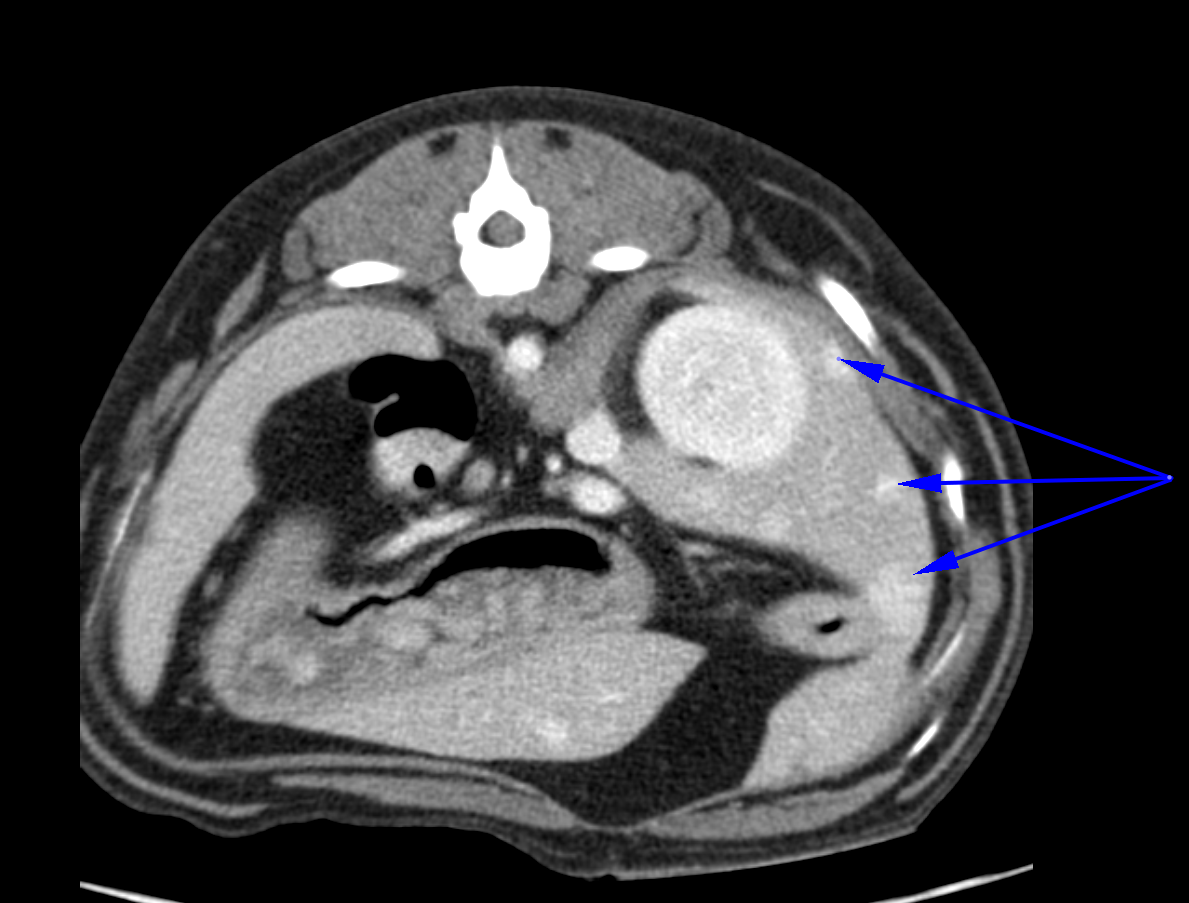 CT image showing liver nodules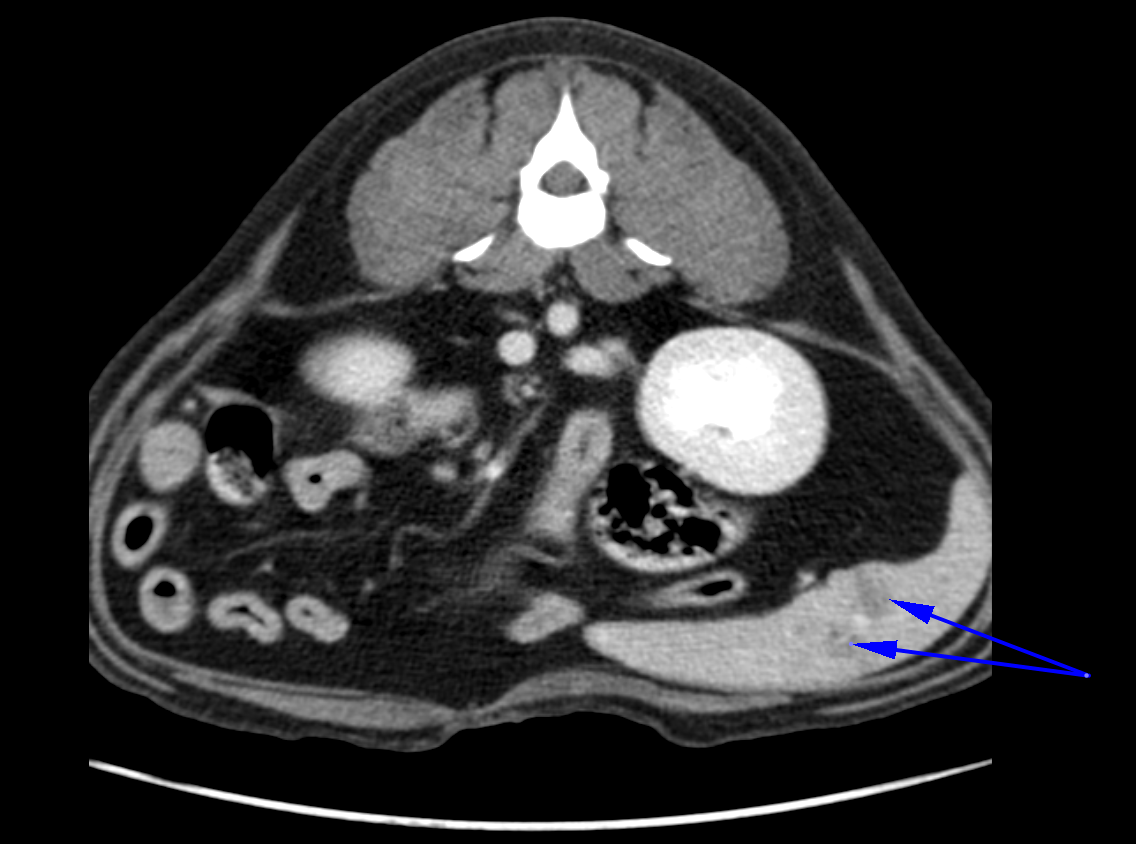 CT image showing splenic nodules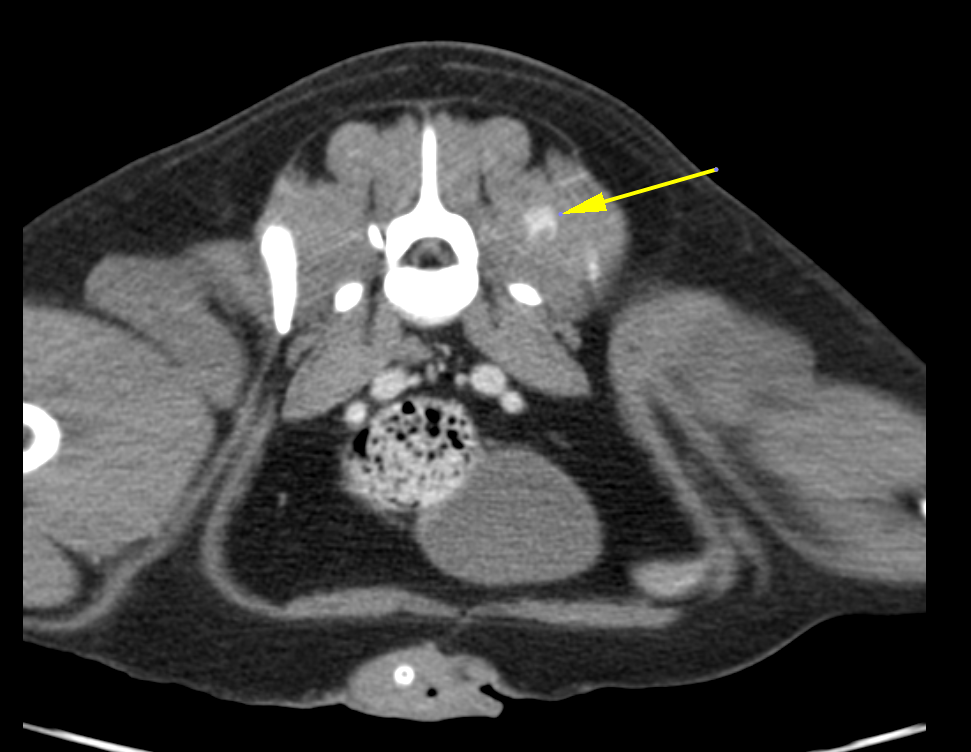 CT image showing metastasis in pelvic muscle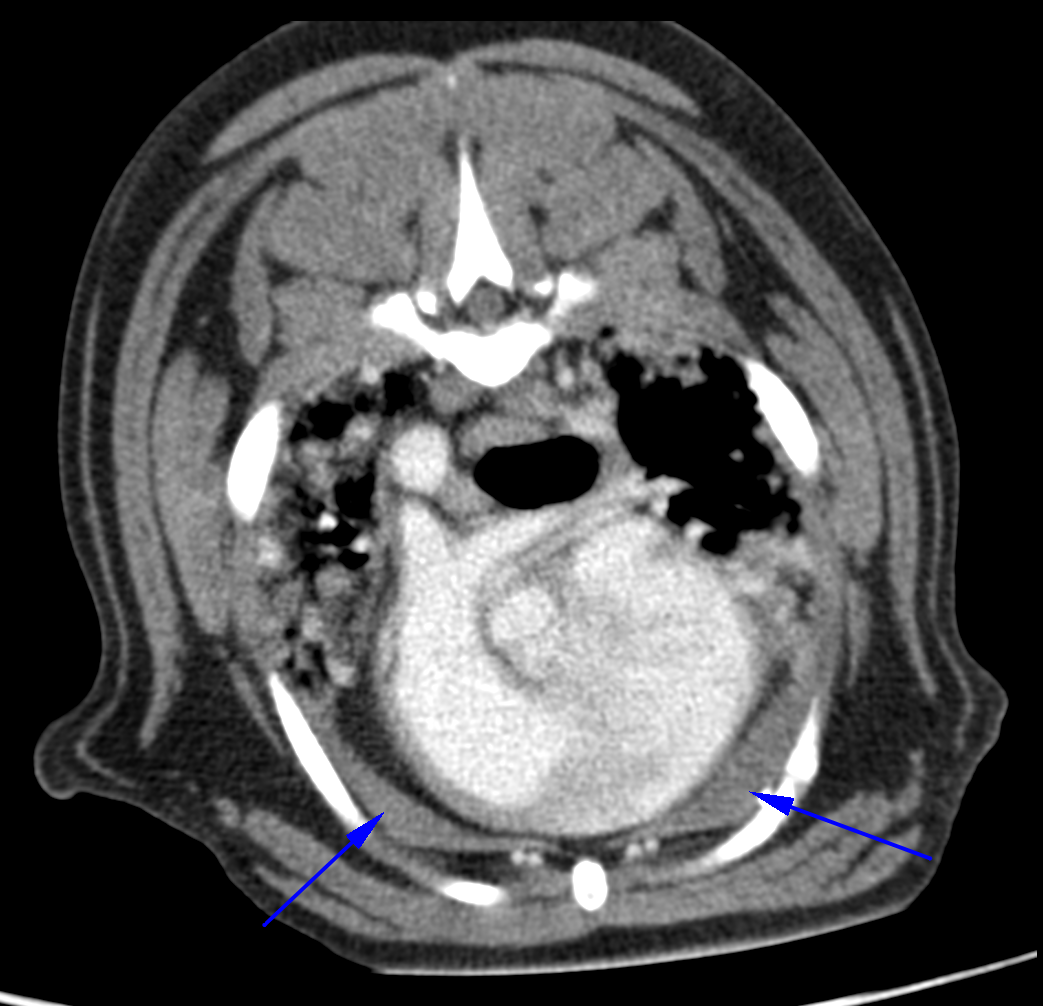 CT image showing the small volume pleural effusion
The diagnosis was most likely metastatic cancer given the appearance, and, based on the pattern of the pulmonary metastases and the presence of muscular metastases, it was thought to be a haemangiosarcoma coming from the liver. A grave prognosis was given and, given the prognosis, the owner elected for euthanasia.