Shoulder arthrodesis in a Miniature Poodle using a CT generated 3D printed bone model

A 9-year-old Miniature Poodle was referred for the treatment of recurrent luxation of the right shoulder. Examination under general anaesthetic revealed a markedly increased abduction angle and gross instability of the right shoulder joint. Due to chronic non-weight bearing lameness there was very poor muscle around the shoulder joint. After two failed attempts had been made to stabilise the joint using sutures, the decision was made to perform a shoulder arthrodesis. This procedure can be an excellent way to resolve chronically painful shoulder conditions whilst maintaining a good level of forelimb function.
A CT scan of the humerus and scapula was performed and from this a three-dimensional life size model was produced by VetCT using 3D printing technology.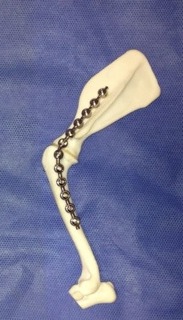 This allowed rehearsal of the surgery and precise contouring of the plate used prior to surgery. The benefits of this approach include greater accuracy of plate contouring, markedly reduced surgical time and more predictable post-operative limb alignment.
During surgery the articular cartilage was debrided from the joint using an air-bur and the joint was temporarily stabilized using an arthrodesis wire. A trans-articular lag screw was applied after packing the joint with cancellous bone graft. The pre-contoured 2.0mm locking SOP plate (Orthomed) was then applied across the joint.
Within a few weeks of surgery the dog was bearing weight well on the operated leg and was comfortable enough to stop receiving NSAIDs. Radiographs taken 8 weeks after surgery showed good progression of arthrodesis and no evidence of any implant associated problems.
Acknowledgements:
Surgery was carried out by Duncan Barnes MA VetMB CertSAS MRCVS, Eastcott Referrals, 01793 528341.