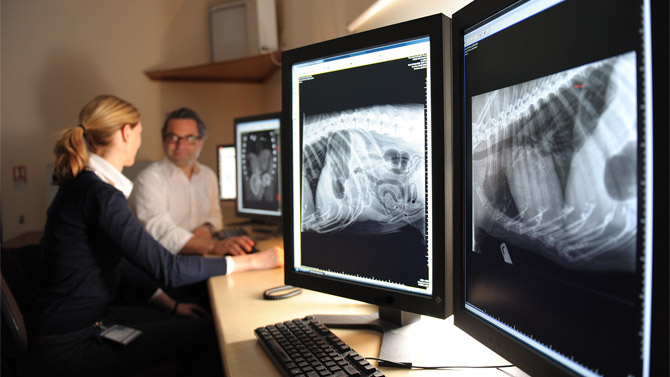 Our strong reputation for excellence and trustworthy services is built on a foundation of education, patient care and quality control.
Training and education
The quality of reports from VetCT is unparalleled. This process begins before the images are even acquired. The best clinical results can only result from optimal utilisation of your imaging equipment and for this reason we provide training courses and telephone support to help guide appropriate modality choice and protocol selection.
We believe strongly that every report that we issue should be educational. Vets do not wish to lose their clinical skills by sending a case for a report, rather they wish to enhance their skills and learn something from each case. We therefore treat each of our telemedicine reports as an opportunity to teach. The reports are detailed, contain helpful advice and importantly each report contains labelled images showing the abnormalities.
An extension of your practice
Interaction with our clients is essential. We want to be an extension of your own hospital- based veterinary team. Vets can call our office and speak to a radiologist about their case and can also chat with specialists via our online platform. All of this interaction is free of charge. We encourage feedback, case discussion and dialogue at every opportunity.
Our specialists
We expect our radiologists and other specialists to take pride in every single report that we issue - no matter the complexity. We aren't a factory. We are a specialist organisation producing high-quality medical reports tailored to meet the care requirements of individual patients. We motivate our team to create work of the highest possible care -taking the time to think about, research and report on each case.
Quality control
We have robust systems of quality control. We use the strength of a large group and internal discussions based on our combined experience to get the best possible results for each patient. Routine random quality control checks, second opinions and regular online lectures and training are amongst our methods to maintain our high standards.
Patient care
Finally and most importantly, we are vets and we never forget that the most important aspect of our work is doing the right thing for the patient at the centre of every case.