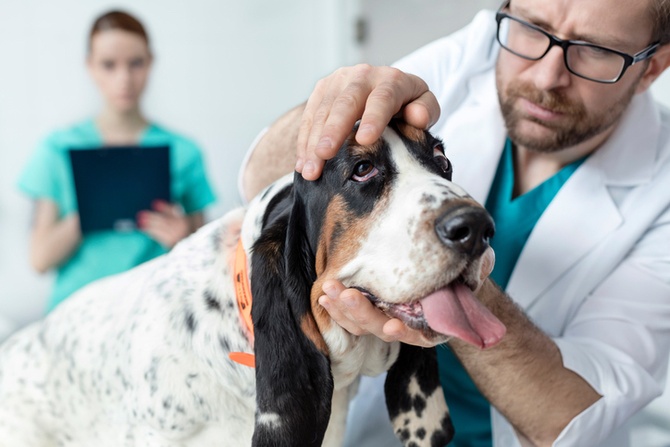 A unique new service providing you with instant specialist telephone advice whenever you need it.
Direct and unlimited phone access
We have removed all the barriers, giving you freedom to have instant and unlimited phone access to a specialist for any case
All the veterinary surgeons in your practice will have ready-made direct telephone access to our friendly and supportive team of Board-Certified Specialists. We are also able to seamlessly use the latest technology to help you make the most of your cases, you do not need any complicated software for that! Do you have a smartphone and a computer? Then you are all set!
There is no individual charge per call, which means that you can call us without being worried about having to pass the charge on to the client. You can contact us with questions about a specific difficult case, but also with other general questions that come up on your daily practice, even when they are not related to a specific case. We are also here to listen to you if you are having a hard day. We are here to help you and make you enjoy your work more, while also building up your skills.
Increased job fulfilment

Giving you the support in managing your patients through the whole diagnostic and treatment journey
Being a general practitioner is very difficult, as clients are becoming more and more demanding and are expecting you to be an expert in everything. It is not only owners who expect you to have specialist-level knowledge in all disciplines, we also expect that of ourselves sometimes, which is an impossible task. Feeling that we are not providing state of the art management options for our patients can become quite draining and can lead to many of us "falling out of love" with the profession. This is of course not a challenge only faced by young vets, if you are an experienced vet, you may be feeling already comfortable dealing with all sorts of cases, but what if we told you that we can help incorporate the latest advances on all disciplines in your daily cases? What if we could reignite the fire of discovering new things, even when you feel that you have reached a comfortable level?
Reduced stress levels

99% of vets found the service reduced their stress levels
Stress is one of the biggest foes that we have to deal with in the daily life as vets. Being pulled in different directions and having challenging cases or challenging owners can add to that. We are here to support you and help you with those challenging cases that keep you up at night. We provide a holistic support specialist service who can help you with those demanding cases or clients who put a strain on your day. Our specialists are fully aware of the strain those challenges can put on you as a person. We are also happy to listen if you just want to get something off your chest or if simply you are having a difficult day. We are here to help you feel supported in all aspects of your daily life as a vet.
Specialist support for all cases

One point of contact, with access to a full team of specialists across all disciplines
We have a large team of board-certified specialists encompassing all disciplines in small animal medicine and exotics. We are a multi-disciplinary specialist hospital and we are able to work with you and work together with each other to make sure that we provide the best support for you and for your clients. Have a look at some of our case studies and see for yourself!
Real-Time CPD

Continuous learning within your practice environment, with your own cases
At the VetCT Telemedicine Hospital we are not here to de-skill you, it is quite the opposite! We are here to make you better and to help you improve on those areas where there is room for improvement. All the interactions with our team of specialists count towards the RCVS-required CPD hours. As specialists we are always up to date with the latest developments in the field and can help you become aware of those, not only to apply to the case you call us about, but also to any other similar cases that you come across. This is truly case-by-case CPD, tailored to you and your needs. Every interaction with our specialists gets recorded and every member will regularly receive a CPD certificate stating the number of hours of CPD that each member has received.
Friendly and supportive specialists

We become an extension of your team, another colleague to confer and share with
We have a hand-picked team of specialists who have been picked not only for being really good in their field, but also for being friendly and supportive. Every specialist in our team has experience in mentoring and supporting colleagues. This is one of our main core values, we are not located in an "ivory tower", we are aware of the daily challenges that general practitioners face and we are here to work with you, help you grow and make you feel good about yourself. There are no silly questions. We encourage you to ask us everything and anything, even those questions that you were embarrassed to ask. We are here for you, every step of the way!
Joining the VetCT Telemedicine Hospital

Becoming a member could not be more straightforward. Just contact us today via info@vet-ct.com or call 01223 422251
Testimonials
Vets One Group, UK
Robert Dudley, BVetMed (Hons) PgC GPCert (SAS) MRCVS
"The VetCT Telemedicine Hospital has been a fantastic extension of our practice that I have no doubt we will continue to use. The team are immediately available and happy to consult on any case. We have always found the discussions and advice to be clinically first-rate but also appropriate for the real world of veterinary medicine and tailored to the individual case. The ability to plug gaps in the skillset of our team and get help with tricky cases has greatly reduced our stress levels and improved the quality of our patient care, as well as expanding and updating our knowledge."
Easipetcare, UK
Bryan Nicolay, DVM MRCVS, Director of Clinical Operations
"The VetCT Telemedicine Hospital is a great innovation developed by VetCT. The system allows you to have a specialist clinician on call to deal with any complex cases. This allows us to get faster more accurate diagnoses and treatment plans for these cases and also allows us to retain these clients and patients in-house. The quality of the advice given and the friendly, supportive interactions with my teams has far surpassed my expectations. Reports are given on every case discussed, allowing for digestion of the information provided. Follow up calls were always welcomed and we always felt that Stijn and his team had a vested interest in all our cases. They have gotten to know our teams and it really is like having a specialist on the payroll at a fraction of the cost. The benefits we have seen in terms of team and individual learning, improved outcomes in complex cases and retention of business due to the decreased need to refer has far outweighed the cost of the service. I look. Forward to continuing to grow and develop our relationship with the Telemedicine hospital and would definitely advocate its benefits for any first opinion practice. "
---
Related services
In-house training
Training your team in the comfort of your own clinic is an efficient, effective way to strengthen your practice.
Learn more