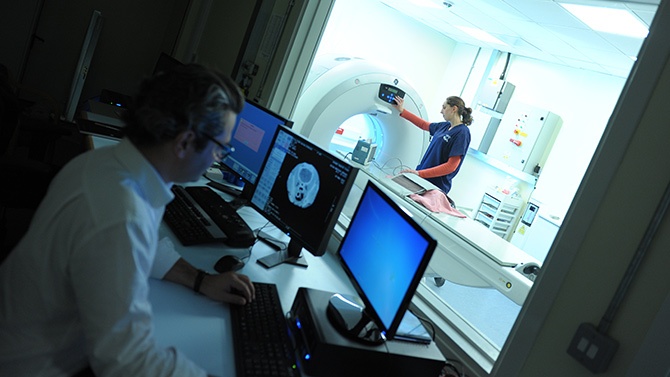 Our advice to veterinary practices considering CT or MRI have proved to be one of our most popular services. Talk to us before contemplating purchase and to learn more about installation, setup and running a scanner.
Is CT or MRI right for my practice?
There are many ways that you can bring advanced imaging into your practice. We offer advice on whether an outpatient service, mobile CT / MRI service or your own scanner is the best option. We work with many different types of practices; from those who are just starting out in CT / MRI and feel they have a lot to learn, to referral practices and Universities who are looking to replace or upgrade their existing system.
Can I create a successful business model?
We can discuss your potential CT or MRI caseload and whether an onsite scanner would make sense for you or not. We help practices understand how to develop their advanced imaging caseload over time and discuss innovative strategies to make a successful business plan. We have many helpful contacts and ideas to assist you.
How should I choose a scanner?
We are the only company to offer independent, unbiased advice on the full market choice of CT and MRI scanners. We have an excellent understanding of the different types of scanners available and the factors which are important when making such a key decision. This can be a minefield for people who are unfamiliar with the terminology and available options. We cut through jargon and provide clear, helpful information to simplify your decision making process.
How do I learn how to use CT /MRI?
Our in-house training and educational courses are designed to teach vets and their staff how to best utilise their scanner on a daily basis. Each year we take many vets on a journey from zero experience to complete competence in scanning technique, building their confidence and delivering results.
How do I learn how to interpret CT /MRI?
Interpretation of CT and MRI studies is challenging and requires specialist training. We recommend a specialist radiologist report (Dip ECVDI, DACVR or RCVS Diploma holder) for every case. Our CT and MRI reports are so detailed and comprehensive that you do not need to worry about interpretation of the images- we will provide a full service for your clients and will exceed your expectations.

Contact us to organise a free CT /MRI telephone consultation.
---
---
Related events
This three day MRI course has been recently introduced due to popular demand. This comprehensive course will include radiologists, neurologists and neurosurgeons as speakers.

An in-depth two day course covering head (orbit, nose, dental, TMJ, ear, brain), spine, neck and orthopaedic CT.