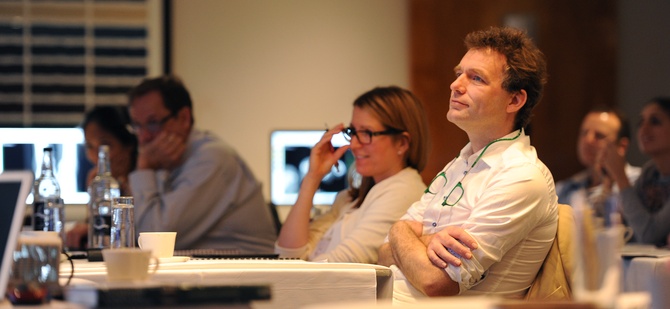 Our unique courses are renowned for imparting the specialist technical knowledge required to utilise CT and MRI professionally, effectively and safely.
Focused training that works
We have been running our unique CT and MRI courses since 2009 and many delegates have attended on repeat occasions to further their knowledge. The courses attract international interest and are usually a great mix of vets from all over the world. Each course includes a mixture of lectures and lab sessions on 27inch iMac computers to enable delegates to practice some of the techniques taught.
World-renowned speakers and experts
We are lucky enough to work with some of the leading names in CT and MRI. Our speakers are incredibly experienced and have published widely on their subjects, including authoring textbooks. The lectures and lab sessions are professional, cutting edge and packed with helpful tips and unique material. All of the speakers are approachable and their enthusiasm for cross-sectional imaging is infectious!
Scheduled courses and bespoke events
Visit our courses page to make a booking on one of our scheduled courses. We are also able to offer bespoke events to larger clinics, groups and corporate clients.
---
Related services
MRI and CT advice
Our unique and independent advice services enable anyone with an interest in CT or MRI to get started and build a successful operation.
Learn more
In-house training
Training your team in the comfort of your own clinic is an efficient, effective way to strengthen your practice.
Learn more
---
Related events
A two day course covering principles, technique and interpretation of thoracic, abdominal and oncologic CT. The course includes CT biopsy technique.

An in-depth two day course covering head (orbit, nose, dental, TMJ, ear, brain), spine, neck and orthopaedic CT.