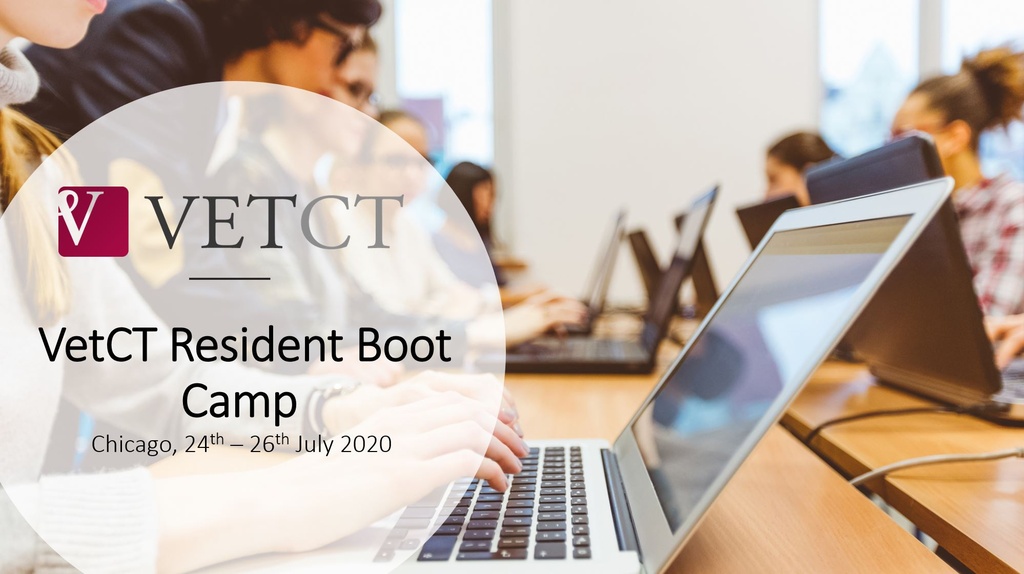 Held in Chicago, VetCT holds a 3-day interactive course consisting of a series of hands-on and small group discussions with a focus on supporting achievement of Diplomate status. The training provided is supported by instructors that are leaders in their field providing a diverse experience for the resident.
Our mission is to create a relaxed and open learning environment where you can test your skills and knowledge. The VetCT Boot Camp is renowned for that vital exam support, fun socials and relationship building.
Limited spaces available, so register your interest by contacting Katie at
katie.booth@vet-ct.com.
Testimonials following the 2019 VetCT Boot Camp
"The VetCT Boot Camp was instrumental in helping me pass. The mock exam allowed me to identify my weaknesses with time to fix them before the real deal. In addition, the individual instructors were knowledgeable in each modality and made complex cases seem easy. At the end of the program, every instructor was able to give their insights on how to approach the examination and manage the stress of it. I would highly recommend making the VetCT Boot Camp a part of your study process".
"The certifying boot camp that VetCT has put together is simply excellent in the sense that is prepares one for what to expect for the new written boards setting. The cases were challenging but were representative of what the actual exam is about. All radiologists were professional, positive, and very helpful to anyone that needed insight on what to improve on. I would recommend this to any resident who is eligible for the certifying exam!"
"The VetCT bootcamp was extremely beneficial for preparation for the certifying exam. It was incredibly well organized, the instructors were fantastic, and the cases were excellent. The most helpful thing for me was practicing a mock exam in a longer session with a room full of my peers; this was close to mimicking the real thing and prepared me for what to expect on exam day. Aside from excellent case instruction, VetCT bootcamp was a great way to spend time with my colleagues and build relationships within the college. I also appreciated the additional time spent on stress management, as this is a huge part of preparing for the exam. Overall I enjoyed the experience very much, it set me up for success on the exam and I highly recommend to others!"
"VetCT went above and beyond with the bootcamp, not only in collecting interesting and appropriate cases for us to test our knowledge with, but also in creating a supportive, encouraging and warm atmosphere, genuine in their wish for us to succeed. I particularly enjoyed the discussions on test taking strategies - oftentimes, a big exam is not just knowing the content, but having the wherewithal and mental stamina to succeed, and I am grateful to VetCT for their foresight in recognizing both facets of this exam. Thank you!"