VetCT are pleased to present our Radiographic Case Study for May: A dyspnoeic 4 year old DLH cat
Clinical history:

4 year 11 month old male neutered domestic long haired cat

The patient presented with sudden onset tachypnoea and the owner reported that he was not himself. He had not eaten that day but had eaten the night before. Auscultation of the heart was difficult over the breathing but the rhythm was normal. He had a history of a stress murmur when examined at the vets. His temperature was normal and there were no other abnormalities on clinical examination.

Radiographs were performed. Scroll down for radiographs: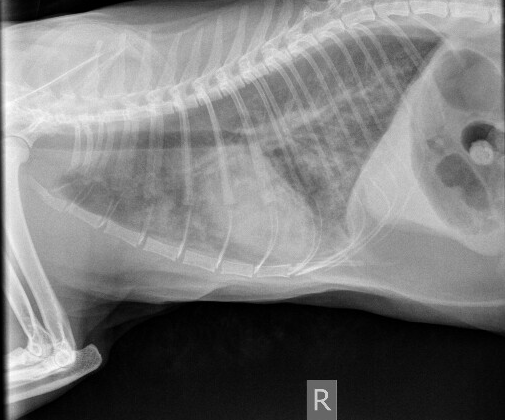 Right lateral thorax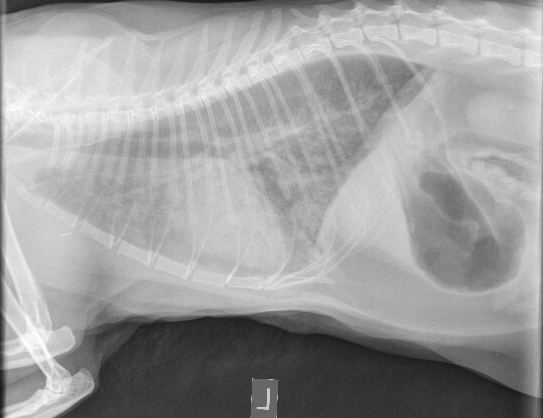 Left lateral thorax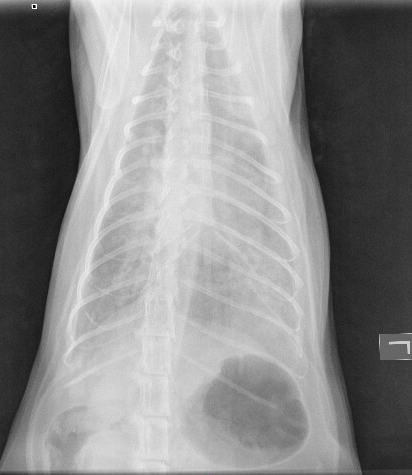 Dorso ventral thorax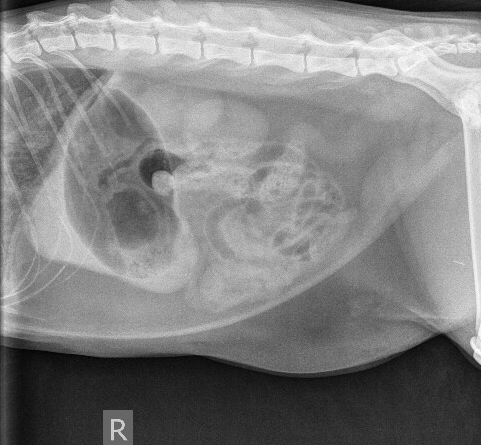 Right lateral abdomen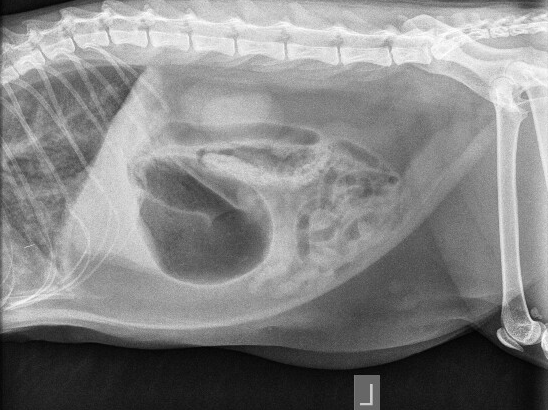 Left lateral abdomen
Diagnostic Interpretation:
Thorax: Diffusely in the lungs, there is a severe increase in soft tissue opacity that follows airways and creates prominent peribronchial cuffing giving the impression of lines and rings (railroad tracks/tramlines and doughnuts). The lung lesion partially obscures the cardiac silhouette and obscures pulmonary blood vessels, however the overall impression is that the cardiac silhouette and the pulmonary blood vessels have normal size. There are no abnormalities noted in the plural space or mediastinum. The thoracic skeletal structures and associated soft tissues are unremarkable.

Abdomen: The stomach and descending duodenum are moderately gas distended. Other segments of small intestine have variable lumen contents including gas and fluid but overall exhibit normal size. The colon contains some granular fecal contents and some fluid/empty portions in the descending colon. The kidneys and spleen have normal size, shape, and position. The peritoneal serosal detail is appropriate.

There are no osseous abnormalities of the vertebral column or pelvis noted.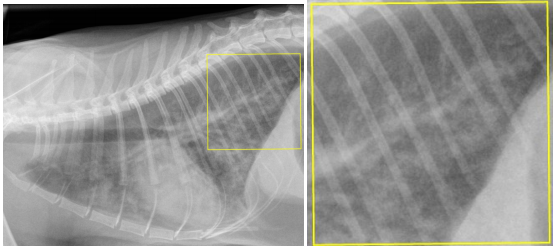 Figure 1, 2. Right lateral thoracic radiograph and inset showing magnified caudo-dorsal lung field with severe peribronchial cuffing (doughnuts and railroad tracks/tramlines).

Conclusions:

1. Severe diffuse bronchial lung pattern - most consistent with feline allergic bronchitis / asthma, see below for discussion and other possibilities

2. Gastric and duodenal distention most consistent with aerophagia secondary to respiratory disease, see below for discussion and other possibilities
3. No evidence of cardiomegaly - early hypertrophic cardiomyopathy in cats may not be present radiographically, please correlate with clinical findings and auscultation.

Additional comments:

The appearance of the lungs is most consistent with severe feline allergic bronchitis/asthma. Other causes of diffuse bronchial infiltrates can include inhaled irritant, parasitic infection, neoplasia such as lymphoma (lymphatics adjacent to bronchial walls), or less likely but not fully excluded in cats is atypical pulmonary oedema. Sampling would be required for definitive diagnosis, empirical treatment to monitor patient's response could be considered as a next step.

The finding of gastric and duodenal distention is common in animals experiencing difficulty breathing and is attributable to aerophagia. Other causes of this appearance could include gastroenteritis of any aetiology, but this is considered less likely unless correlated to clinical findings such as vomiting or diarrhoea. The appearance of the descending colon being empty or containing only fluid in the caudal aspect with more solid faecal contents upstream is a frequent anatomic variation and no specific pathology can be attributed to this. The position and distribution of the small intestine is likewise within normal anatomic limits, however diffuse enteropathy of any cause may also present with small intestinal gas distention and should be excluded based on clinical findings. If indicated, consider abdominal ultrasonography for further assessment of the intestinal status including mural features, luminal contents, and associated lymph nodes.

Update:

Steroid therapy was instigated but the patient did not improve on this medical therapy. Therefore there was a concern for this patient having left sided congestive heart failure. While the pulmonary pattern appears bronchial in some regions due to the peribronchial accumulation of fluid, there is a patchy, multifocal instructor interstitial pattern suggestive of pulmonary oedema. In addition, on the right lateral projection, the cardiac silhouette is mildly enlarged. Given the failure of the patient to improve on steroids, and the possibility of left sided congestive heart failure, a recommendation was made to institute furosemide therapy and order an echocardiogram to assess cardiac function.

He was referred where an echocardiogram along with blood tests were done.

On referral his clinical examination revealed:

Inspiratory and expiratory dyspnoea (120 breaths/min), crackles in right lung field, heart rate of 180 beats/min, with a gallop rhythm but no murmur and no pulse deficits, slightly weak femoral pulses. There was good chest compliance and abdominal and lymph node exam was unremarkable.
Echocardiogram findings were as follows:
Mild left atrial enlargement, moderate to severe left ventricular concentric hypertrophy, and no pleural effusion
Bloods results showed renal function and electrolyte levels to have been maintained. Troponin (a marker of heart injury) was moderately elevated. This can be caused by an infection and further tests were ordered to assess for infection with Toxoplasma. The results for Toxoplasma were are follows:

Toxo IgG antibody titre by IFA > 800

Toxo IgM antibody titre by IFA <20

These results indicate previous exposure to Toxoplasma, although the low IgM levels suggest that exposure had not been recent. However, Toxoplasma infection leading to a myocarditis and subsequent left-sided congestive heart failure cannot be ruled out and so it was recommended the cat started treatment with clindamycin for a 4 week period.

A diagnosis of left-sided congestive heart failure secondary to left ventricular hypertrophic cardiomyopathy (possible toxoplasma-induced myocarditis) was made and the cat was discharged on:

Clindamycin 264mg: A quarter of a tablet orally every 12 hours for 4 weeks
Torasemide 0.75mg: One tablet orally every 24 hours
Clopidogrel 18.25 mg tablets (anti-thrombotic medication):One tablet orally every 24 hours.

He was re admitted ten days later with worsening tachypnoea. He was stabilised successfully and was discharged on a different medication:

Cardalis 2.5mg / 20mg ( 2.5mg Benazepril Hydrochloride and 20mg Spironolactone): Half a tablet orally every 24 hours.
Furosemide 20mg: Half a tablet orally every 12 hours.
Clindamycin 264mg: A quarter of a tablet orally every 12 hours for 4 weeks.
Clopidogrel 18.25 mg tablets (anti-thrombotic medication):One tablet orally every 24 hours.

17 days later he had a repeat echocardiogram. This showed focal left ventricular myocardial hypertrophy, as previously noted. There was mild left atrial enlargement, similar to the previous echocardiogram. Adequate control of CHF was suspected based on this examination and the clinical status.

A further 2 weeks later he had a further echocardiogram. This showed that there had been minimal changes in the areas of thickening in his heart, which may suggest that this was not being caused by Toxoplasma infection and instead was a primary hypertrophic cardiomyopathy. According to his echocardiogram and examination it appeared that the cat's heart failure was stable. A decision was made to stop treatment with the Clindamycin as he had started to become inappetant. All other medication was continued indefinitely.

---