Clinical history:
This is a one year old female entire crossbreed that was presented with a heart murmur. Radiographs were taken to investigate the murmur
(scroll down for radiographs)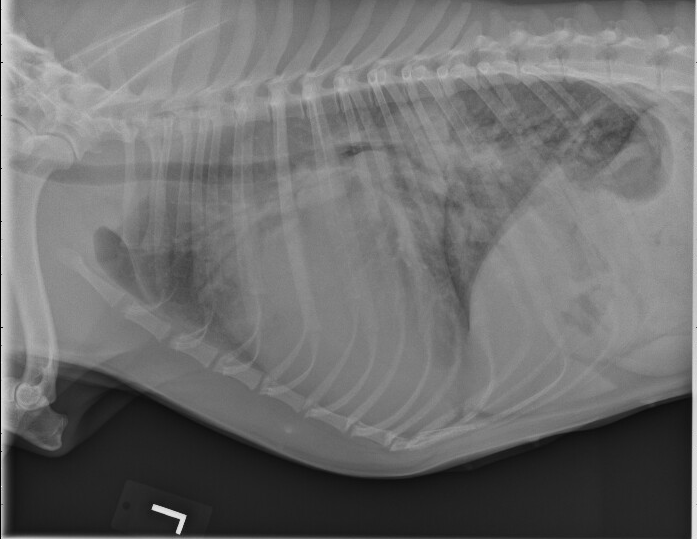 Left lateral thorax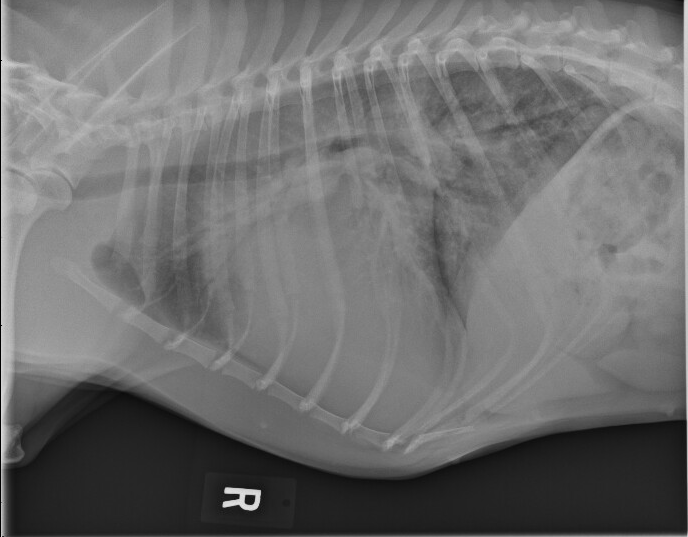 Right lateral thorax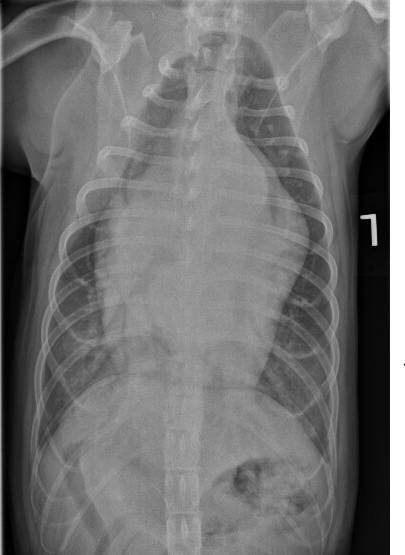 Ventro dorsal thorax
Diagnostic interpretation:

The heart silhouette is markedly enlarged, occupying more than 3 intercostal spaces on the lateral view. The VHS is 15.2. The caudal waist of the heart is straightened, indicating left atrial and ventricular enlargement. The right side of the heart is rounded and it also looks enlarged. From the VD view, a prominent aortic arch, main pulmonary artery and left auricle can be seen. The pulmonary veins are larger than the arteries, and they mildly exceed the width of the 4th rib on the lateral view, and the 9th rib on the DV view. The arteries are also prominent. There is increased pulmonary opacity centred on the perihilar region and extending to the periphery, characterised by blurring of the vascular detail and air brochograms (interstitial to alveolar pattern). No signs of pleural disease are seen. The trachea is elevated dorsally by the enlarged heart, as well as the left caudal bronchus (which is not compressed). The diaphragm is well delineated. The cranial abdomen and skeletal structures included on these radiographs are within normal limits.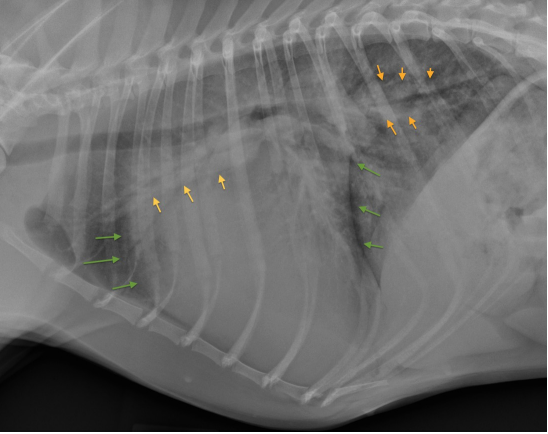 Fig 1: The green arrows point the very large heart. The orange and yellow arrows point the caudal and cranial pulmonary veins, both very prominent. The cranial pulmonary veins are mildly larger than the arteries.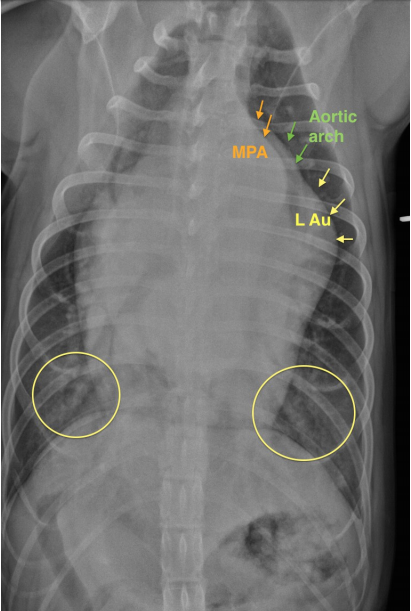 Fig 2: The circles highlight the bilateral interstitial to alveolar lung pattern centered on the perihilar region. The arrows with colors indicate the main pulmonary artery (MPA), aortic arch and left auricle (L Au).

Conclusions:

1. Generalized cardiomegaly, mainly left-sided, descompensated.
2. Pulmonary venous congestion.
3. Pulmonary cardiogenic oedema.

Additional comments:

Given the age of the animal, a congenital cardiac anomaly is very likely. The changes seen on these radiographs can be compatible with patent ductus arteriosus (left to right), mitral dysplasia or large ventricular septal defect (left to right). Echocardiography is necessary to confirm and characterize the cardiac pathology

Update:

An echo was performed soon after the radiographs and a patent ductus arteriosus was diagnosed. Surgery was performed the next day and the dog recovered well.