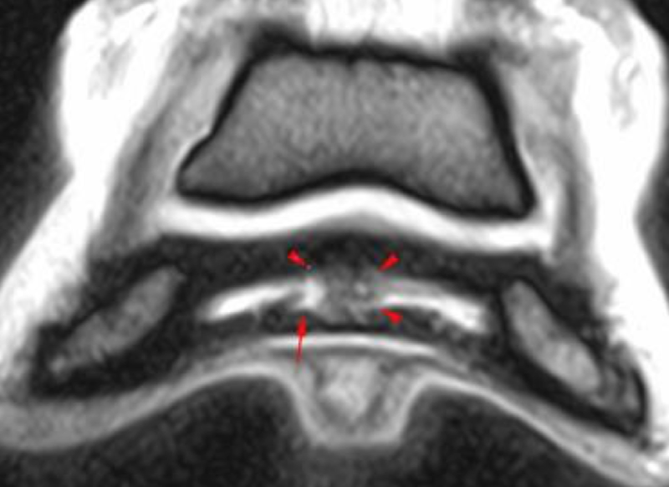 Comprehensive Equine MRI interpretation, with quick 24h maximum turnaround time, will enable you to make the most appropriate clinical decisions for your patients.
MRI is an extremely advanced imaging modality and there are unique requirements for meaningful image interpretation. The time and expense of this type of examination makes an accurate report vital. Our equine radiologists have a detailed understanding of anatomy, physiology, pathology and MRI physics, enabling them to give you the information and answers that you need. Each report contains labelled images, explaining the abnormalities present to ease your discussion with the clients and help you learn from every case that you send.
Our dedicated equine radiologists will build a relationship with your practice to meet your specific needs. You can also interact with our specialists directly on the phone to ask questions or seek further advices.
Image acquisition and protocol set up
Multiple sequences are available and a standard protocol should be used for each region investigated. However, the number of sequences and acquisition planes can vary based on the clinical history, the type of horse imaged and expectation. We can discuss your specific needs and help you setting up a MRI protocol tailored for your hospital and the type of patients you image.
We strongly believe that image quality is crucial for a correct diagnosis and we will support you with critical evaluation of image quality and give useful tip to improve it; we want you to get the most out of your images and keep your clients happy.
Send digital images directly
Images can be sent directly from your scanner to our server avoiding time wastage and assuring no delay in image interpretation.
For information on pricing, turnaround times please get in touch.
---
---
Related events
This is a one day course including both lectures and practical case-based image evaluation. It is the first part of a series of courses which will explore the application of diagnostic imaging in the lameness diagnosis workup, with emphasis on magnetic resonance imaging, in sport horses.