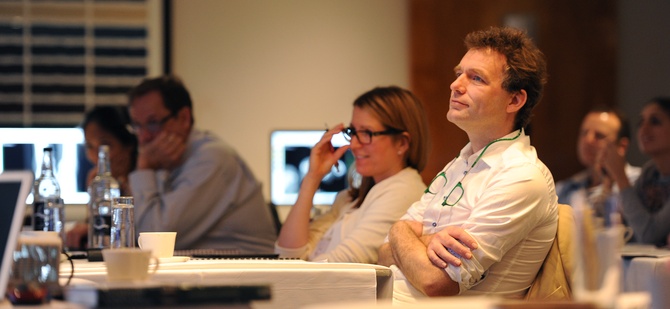 Our unique equine courses are designed for imparting the specialist technical knowledge required to utilise equine CT and equine MRI professionally, effectively and safely.
Focused training that works
Equine CT and MRI courses are now available. The Equine courses attract international interest and are usually a great mix of vets from all over the world. Each course includes a mixture of lectures and lab sessions on 27inch iMac computers to enable delegates to practice some of the techniques taught.
World-renowned speakers and equine experts
We are lucky enough to work with some of the leading names in equine CT and equine MRI. Our speakers are incredibly experienced and have published widely on their subjects, including authoring equine textbooks. The lectures and lab sessions are professional, cutting edge and packed with helpful tips and unique material. All of the speakers are approachable and their enthusiasm for cross-sectional imaging is infectious!
Scheduled courses and bespoke events
Visit our courses page to make a booking on one of our scheduled equine courses. We are also able to offer bespoke equine events to larger equine clinics, groups and corporate clients.
---
Related services
MRI reporting
Our radiologists utilise their advanced understanding of anatomy, pathology and physics to produce expert Equine MRI reports.
Learn more
---
Related events
This is a one day course including both lectures and practical case-based image evaluation. It is the first part of a series of courses which will explore the application of diagnostic imaging in the lameness diagnosis workup, with emphasis on magnetic resonance imaging, in sport horses.