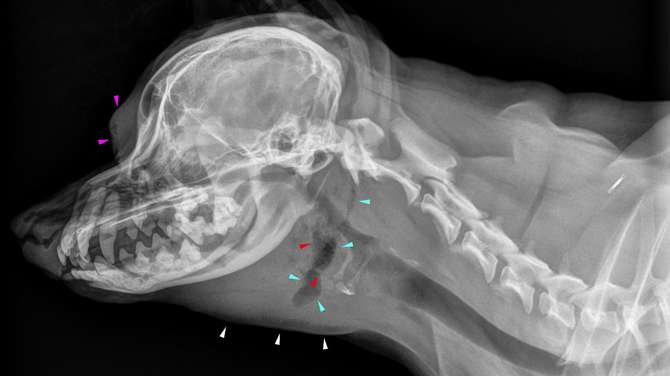 Partnering with VetCT means together we see more. Our detailed, high-quality annotated veterinary teleradiology reports written by board-certified radiologists provide you with the diagnostic confidence you need to make the best recommendations for your patients.
Experts in Radiology 
Founded by radiologists in 2009, we are committed to supporting veterinary teams in delivering the highest standards of care to patients. We understand the challenges veterinary practices face and our global team of board-certified radiologists work with you around the clock with our clinically-trained case managers to provide rapid 24/7, 365 support.
Over 140 board-certified radiologists 
Trusted, high-quality annotated veterinary teleradiology reports with our unique clinical warranty
Multidisciplinary specialist input into reports
Advice & support on x-ray, CT & MRI Protocols
Reliable turnaround times to meet your needs with 99% reports delivered on time
All species - small and large animal, exotics, equine, zoo and wildlife
User-friendly and easy to access platform to view cases 
VetCT App available
How it works
1. Send Images
Automatically send digital images via DICOM send to our teleradiology service: DICOM is a feature of digital imaging machines. We can set up automatic send from your machine, which provides a back-up of all your imaging files. You can also send digital images via uploading to our website. 
2. Add case history 
Add patient details and history via your computer or the VetCT App: Writing a relevant clinical history is an important part of case submission.The teleradiologist will evaluate the images and describe any abnormal findings. The interpretation of those findings is informed by the clinical history.  Some findings may be more pertinent than others based on the information provided by the attending clinician, resulting  in a more accurate synthesis and prioritization of differentials.
3. Choose turnaround 
Choose the turnaround time to suit the clinical status of your patient: We offer flexible, reliable turnaround times from 1 hour to 4 days depending on the clinical urgency. 
4. Receive report 
Feel confident with reports you can trust: Every case you submit will be thoroughly reviewed by our board-certified radiologists. Each veterinary teleradiology report includes your images with annotations explaining what we've found, making the report easy for you to share with owners and allows you to learn with every case.
5. Client support
Have questions? Get instant access to our clinical support team: Our clinically-trained case managers provide rapid 24/7, 365 client support. We also offer direct access to our radiologists for any additional questions around your report.
Meet our board-certified radiologists
We support clinical decision-making by providing you with easy access to our team of highly experienced board-certified radiologists, who have earned a market-leading reputation for the quality of their analyses and the precision, clarity and clinical relevance of their reporting. All our veterinary radiologists are highly skilled, and every report goes through a quality assurance review process to uphold our outstanding > 99% reporting accuracy.
Testimonials
"VetCT is my preferred veterinary teleradiology consult service. The teleradiology reports are incredibly thorough, while also being formatted in a "client friendly" manner; for example highlighting/indicating pathology on thumbnails of the images in the report. The radiologists are receptive when there are follow-up questions, and I have been proactively contacted by radiologists reviewing studies that had additional questions about the patient. When asked by colleagues for recommendations for radiology consultation, I uniformly nominate VetCT.''
Dr Michael Alber, DVM, Veterinarian, Shey's Veterinary Hospital