Event details
Dates: 30th November - 2nd December

Level: Intermediate

Price (includes VAT): £1440.00

Type: MRI

Location: Cambridge, United Kingdom
Event description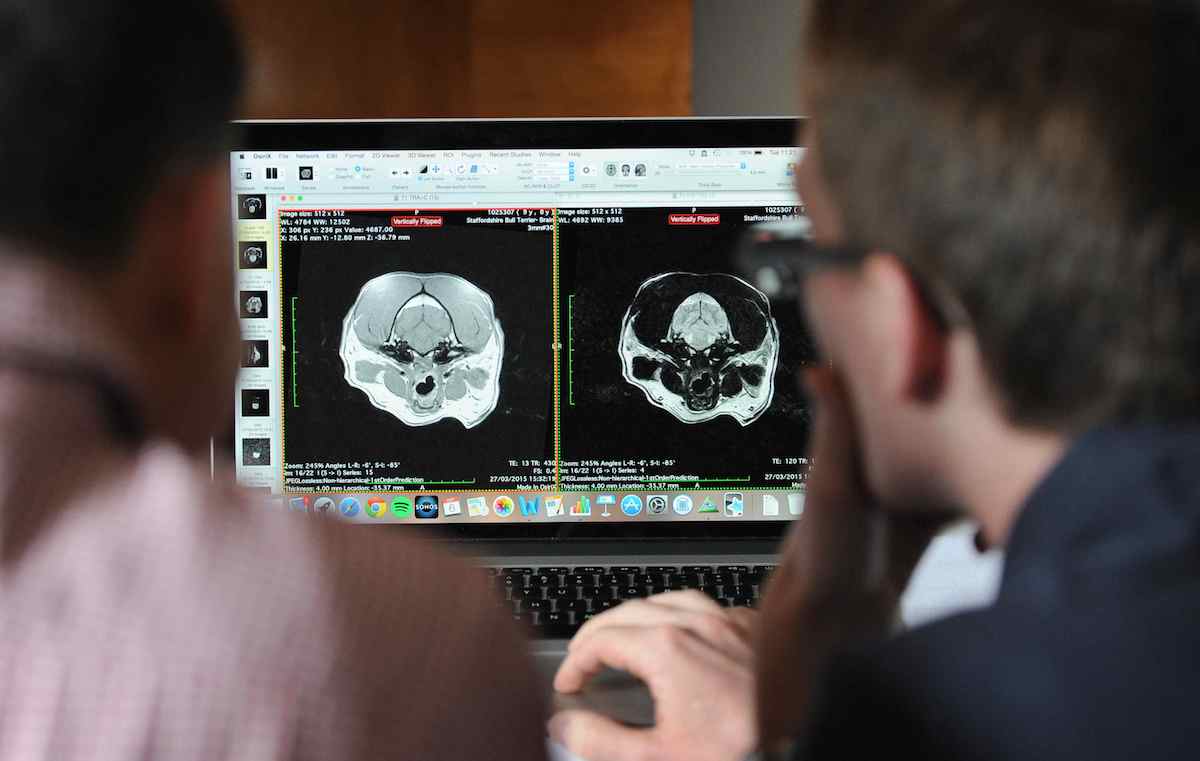 This is part one of our new MRI course series which we are introducing due to popular demand. The course will begin with a brief overview of MRI physics and artefacts, and a comprehensive neuroanatomy refresher. The MR appearance of neurologic diseases will be covered in lectures and computer lab sessions where delegates will have the chance to interpret many interesting cases with direct guidance from the speakers.
---
Speakers
Ruth Dennis MA VetMB DVR DipECVDI MRCVS

Ruth Dennis qualified from Cambridge in 1981 and in 1992 she moved to the Animal Health Trust to set up a diagnostic imaging unit and to run the newly-installed MRI scanner. She became a foundation Diplomate of the European College of Veterinary Diagnostic Imaging (ECVDI) in 1994 and was its President from 2006 to 2008. She now heads a team of five people working in the diagnostic imaging unit in the Small Animal Centre. She has spoken and published widely on the subject of veterinary diagnostic imaging and is editor and co-author of a textbook, Handbook of Small Animal Radiology and Ultrasound: Techniques and Differential Diagnoses (Elsevier). In 2006 she was the recipient of the BSAVA Blaine Award for outstanding contributions to the advancement of veterinary medicine or surgery and in 2012 she received the Douglas and Williamson Award of the European Association of Veterinary Diagnostic Imaging for outstanding contributions to veterinary imaging and to the Association. She is an outstanding speaker and a leading authority in her field.

Abby Caine MA VetMB DipECVDI CertVDI MRCVS, European Veterinary Specialist in Diagnostic Imaging

Abby graduated from Cambridge Veterinary School in 2001. During five years in a busy small animal practice, she developed an interest in radiology and ultrasound, and gained the RCVS Certificate in Veterinary Diagnostic Imaging. She returned to Cambridge in 2006 to undertake a Residency program in Diagnostic Imaging, and gained the European Diploma in Veterinary Diagnostic Imaging in 2009. She is a European Specialist in Veterinary Diagnostic Imaging. Abby is interested in all aspects of imaging, and enjoy using the excellent imaging facilities to progress the interesting and challenging caseload at Dick White Referrals. She is an excellent speaker and has immense experience in MRI, particularly optimising low field MR images.

Victoria Johnson BVSc DVR DipECVDI MRCVS, RCVS and European Specialist in Veterinary Diagnostic Imaging

Victoria Johnson graduated from Bristol Veterinary School, UK. After working in mixed practice she completed a three-year residency programme at Glasgow University Veterinary School. She became a Diplomate of the European College of Veterinary Diagnostic Imaging in 2003. After her residency she took up a post as Lecturer in Radiology at the University of Pennsylvania, USA. She then became a Clinical Radiologist at Murdoch University Veterinary Hospital in Western Australia, working in small and large animal radiology. She left Australia to work at the Animal Health Trust, Newmarket, UK. Victoria then held an Adjunct Assistant Professor position in the University of Florida College of Veterinary Medicine spending much of her clinical time working with CT and MRI. She is a director and full-time radiologist for VetCT and particularly enjoys MRI reporting, image optimisation and case discussion.
---
To make a purchase and confirm your place on this course, you'll need an account with the VetCT website. Once you've registered, you'll be able to purchase and confirm your place.
Log in
Register
---
Related events
This is a one day course including both lectures and practical case-based image evaluation. It is the first part of a series of courses which will explore the application of diagnostic imaging in the lameness diagnosis workup, with emphasis on magnetic resonance imaging, in sport horses.